Happy Birthday Lynn Burke !!!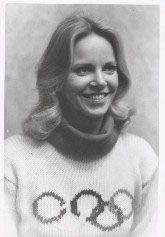 ---
LYNNE BURKE (USA) 1978 Honor Swimmer
FOR THE RECORD:  OLYMPIC GAMES: 1960 gold (100m backstroke; 400m medley relay); WORLD RECORDS: 6; NATIONAL AAU titles: 6 (100m backstroke, 2 relays); AMERICAN RECORDS: 7; Lowered the 100m backstroke World Record four times within three months.
The significant point about Lynn Burke's backstroke World and Olympic Records, according to her coach, George Haines, "is a big chunk she took out of the current world class backstrokers' time, dropping two seconds in the 100m backstroke."  She was the first American woman to win the Olympic 100m backstroke in 28 years.  Lynn burst across the horizon like a flying fish going from virtual obscurity to the best in the world in less than two years, not only defeating all contemporaries, but finally wiping out the oldest record in the books, Hall of Famer Cor Kint's 1939 record that had lasted 21 years.  A New York model, author, business woman, and working mother of three children, Lynn Burke is glamorous proof that a swimmer can set records in more than the water.