Happy Birthday Laura Wilkinson!!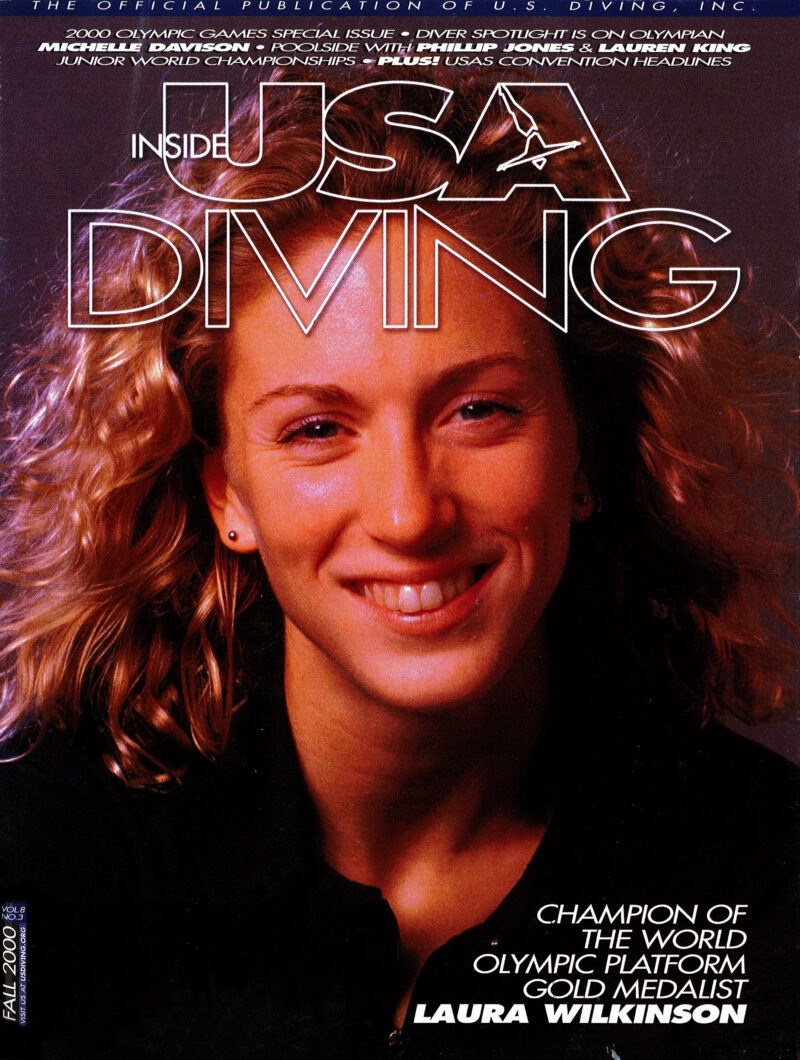 ---
Laura Wilkinson (USA)
Honor Diver (2017)
FOR THE RECORD: 2000 OLYMPIC GAMES: gold (10m platform); 2004 OLYMPIC GAMES: 5th (10m platform); 2008 OLYMPIC GAMES: participant; 2005 WORLD CHAMPIONSHIPS: gold (10m platform); 1998 GOODWILL GAMES: gold (10m platform); 1997-1999 NCAA: 10m champion
Inspired by the publicity surrounding Romanian gymnastic guru Béla Károlyi's arrival to her home town of Houston, Texas, in 1981, Laura Wilkinson fell in love with gymnastics and dreamed of being in the 1996 Olympic Games. After years of training her gymnastic career ended when a growth spurt made her too tall for the sport. Then she discovered diving. In spite of being told by one of her teachers that she was too old to start a new sport at the age of 15, Laura plunged in and "fell in love with the sport on the first day."
Wilkinson didn't go very far her first year, but the next year, in 1995, she won her first US National Title, and earned a bronze medal at the FINA World Cup in the 10m synchronized diving event, with partner Patty Armstrong. Earning a scholarship to the University of Texas, she won the NCAA 10m platform title as a freshman and then won both the 3m and 10m titles at the USA Diving Nationals. In 1998, she gave up her scholarship after winning the Goodwill Games gold medal, to turn pro and train for the 2000 Olympic Games at the Woodlands with coach Kenny Armstrong.
Three months before the Olympic trials, she was doing a typical warm-up somersault, when she landed on a block of wood and broke her right foot in three places. To fix it, doctors had to re-break everything. They also found she had a stress fracture on her left foot as well. It appeared that another Olympic dream was at an end. Together, with her coach, Wilkinson embarked on a brutal training regime. She also watched an "insane amount of video tape" and "visualized every dive" to keep her "head in the game."
Although her foot was still not fully recovered when she started to train again three weeks before the trials, her perseverance paid off as she won the trials and qualified for her first Olympic team.
Three months later, while wearing a protective shoe that enabled her walk up the ladder to the platform, Wilkinson battled back from eighth place and a 60-point deficit after the semifinals to record one of the biggest upsets in Olympic diving history. The turning point came in the third dive of the final round, a reverse two-and-a-half somersault, which Wilkinson performed perfectly, entering the water knife straight with barely a ripple. She went on to win over the favored Chinese diver, Li Na by a minuscule 1.7 points. Her win was the first in the 10m platform event by an American since Leslie Bush in 1964 and the accomplishment earned her an appearance on a Wheaties' cereal box and a finalist for the prestigious Sullivan Award as one of the nation's outstanding athletes.
In 2004, although Laura won the World Cup she finished a disappointing fifth at the Olympic Games in Athens. But she came back the next year to win the gold medal at the FINA World Championships in Montreal. She retired after competing in her third Olympic Games in Beijing as a14-time US National team member (1995-2008), a 19-time US National Champion and one of the greatest divers of all time.
Beginning with her gold medal in the 10m platform event at the 1998 Goodwill Games, Laura Wilkinson is one of the few divers in the world to claim individual gold medals at every major international diving competition during her career. In addition to winning the Goodwill Games, she won gold medals at the 2000 Olympic Games, the 2004 FINA World Cup and the 2005 FINA World Championships.