Happy Birthday Kristen Babb Sprague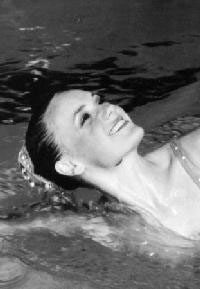 ---
KRISTEN BABB-SPRAGUE (USA) 1999 Honor Synchronized Swimmer
FOR THE RECORD: 1992 OLYMPIC GAMES: gold (solo); 1986 WORLD CHAMPIONSHIPS: silver (team): 1991 WORLD CHAMPIONSHIPS: gold (team), silver (solo): 1991 PAN PACIFIC CHAMPIONSHIPS: gold (solo, team); 1987 PAN AMERICAN GAMES: gold (team); II FINA WORLD CUP: silver (team); III FINA WORLD CUP: gold (team); V FINA WORLD CUP: gold (team), silver (solo); U.S. NATIONAL CHAMPIONSHIPS: 4 (solo), 1 (duet), 8 (team); 1982 Japan International Age Group: gold (solo, 13-14 category).
Kristen Babb-Sprague is the original "Comeback Kid". Following a career threatening back injury in 1989, she returned from a year-long layoff from the sport to win three consecutive national solo titles and two national team titles. At the 1992 Barcelona Olympics she came from behind to win the gold medal in the solo event after having placed second to Canada's Sylvie Frechette at almost every meet since her 1989 injury. She was the first athlete ever to earn perfect scores in artistic impression at the Olympics for her modern innovative routines. Kristen was featured in print advertising campaigns by Speedo and Max Factor in such magazines as Rolling Stone, New Women and McCalls.
It all started at age three when her older sister Lisa and mom were part of the Walnut Creek Aquanuts (CA) Team. She performed in water shows and by age six joined the team. She became a product of U.S. synchro's development program rising through the ranks of age group and Junior Olympic programs first under club founder Sue Ahlet and then Gail Emery, who guided her to the Olympic gold.
On the way to the Olympics, Kristen became the only athlete in USSS history to have competed for eight team national championship squads. She was four time solo national champion, eight time team champion and 1 time duet champion. She won two golds and two silvers in FINA World Cup competition and was the first USSS athlete to qualify for four World Cup squads. She competed in 14 World Regional Championships or Invitationals winning 16 gold and seven silver medals.
At the 1992 Olympic Games, Kristen Babb, which the year before had married 1988 Olympic baseball player and Pittsburgh Pirates catcher Ed Sprague, had deviated from the traditional, operatic approach to the sport. She introduced a more up-beat style of performance, popularizing the sport worldwide. The "western" performance at the Olympics included the music of Leonard Bernstein's "Rodeo", John Williams' "Cowboy" and a moving interlude from "Amazing Grace". The overwhelming response to her new routine style earned Babb-Sprague perfect 10's in artistic impression and three 10's for technical merit. She performed 33 – 360 degree vertical spins including her patented drag spin. When the scores were added together, Kristen had a combined figures and routine score of 191.848 to Sylvie Frechettes' 191.717.
Kristen has been a national spokesperson for the Juvenile Diabetes Foundation. She is a 1992 AAU Sullivan Award finalist and USSS Athlete of the Year, a 1997 USSS Hall of Fame Inductee and three-time "Womens Sports and Fitness" Magazine Up-and-Coming Athlete of the Year.