Happy Birthday Karen Moe !!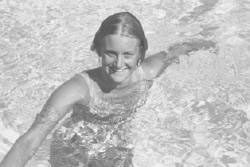 ---
KAREN MOE  (USA) 1992 Honor Swimmer
FOR THE RECORD: OLYMPIC GAMES: 1972 gold (200m butterfly), 1976 4th place (200m butterfly); WORLD RECORDS: 4 (200m butterfly); AAU CHAMPIONSHIPS: 3 (200yd butterfly, 1 relay); AMERICAN RECORDS (Short Course): 1 (100yd butterfly); AMERICAN RECORDS (Long Course): 3 (200yd butterfly); OLYMPIC TRIALS: 1976 1st (200m butterfly).
Although she was born in Del Monoe, the Philippines, Karen Moe and her family settled in Orinda, California.  At age eight she started swimming and after joining the Orinda Aqua Bears Swim Team, she competed for the next eight years as an age group swimmer.  It was not until 1968, at age fifteen, that she competed in her first World Championship.
During those years she had to overcome two spinal deformities, for which she was required to wear a corrective back brace at all times, except when in the water.  In 1970 she set the world record in the 200-meter butterfly, taking the record from the legendary Ada Kok of Holland, and overcoming a bout with shoulder tendonitis attributed to the many yards swum in practice sessions.  Soon after, she and her family moved to Santa Clara where she swam for Coach George Haines at the Santa Clara Swim Club.  Said Haines, "Karen is the type of girl that's a great competitor and she's an intelligent racer. She's one of the smartest swimmers I've ever dealt with, in or out of the water."  Under Haines, Karen set the world record an additional three times.
Her greatest individual achievement was at the 1972 Munich Olympic Games where Karen won the 200-meter butterfly in world record time–two minutes, 15.56 seconds.  It was a clean sweep by the American girls with Lynn Colella (second) and Ellie Daniel (third).  She also placed forth in the 100-meter backstroke.
She returned home to a heroine's welcome and soon enrolled at UCLA in Kinesiology.  She took a two year layoff, but the Bruin's coach Colleen Graham convinced her to swim for the team.  They were contenders for the women's collegiate national championship, and Karen became the national collegiate champion in the 200-yard butterfly, training the collegiate season from October through March only.
It was after graduation in  1976 that she married fellow student Mike Thornton and again began training for a second Olympic Games, even though she was considered an "old lady" at age 23.  She made the team to Montreal, was elected the team captain and placed fourth in the 200-meter fly in an Olympics that saw the girls from the German Democratic Republic win every event but two.
Karen then retired from swimming, but again not for long.  She coached at the Beverly Hills YMCA for two years and in 1978 became the head women's coach at the University of California, coaching forty-nine All-Americans and nine Olympians. She is a three-time conference Coach of the Year and 1987 NCAA Coach of the Year.
All totaled, she won eighteen U.S. National Championships, setting seven American records.  She was a member of the first U.S. Sports Team to make the Goodwill Trip to the Peoples Republic of China following the Ping-Pong Exchange in 1973.