Happy Birthday Judith van Berkel-de Nijs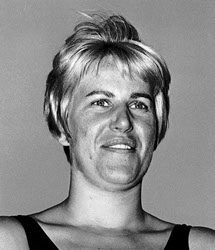 ---
Judith van Berkel-de Nijs (NED) 2014 Honor Open Water Swimmer
FOR THE RECORD: WORLD PROFESSIONAL MARATHON SWIMMING FEDERATION LADIES CHAMPION 1965–1968; ENGLISH CHANNEL CROSSING: 1969; WINNER OF MANY MARATHON RACES FOR BOTH MEN AND WOMEN.
When women's swimming was added to the Olympic program in 1912, it was inconceivable that women could ever compete equally against men in sports. The impossible became possible when Gertrude Ederle beat the record time of the male Channel swimmers in 1926.
Before the 1990's, professional marathon swimming was unique in the world of sports with its inter-gender competitions. Men and women competed head-to-head, mano-o-mano for the same prize money and some extraordinary women often came out on top. In the 1950's Greta Anderson beat every male marathon swimmer of her era at least once. And then came Judith de Nijs.
Judith was born in Hilversum, Holland, where she trained under the famous Dutch coach and Hall of Famer, Jan Stender, with her older sister, Lenie. Both girls became record breaking, elite swimmers for their native Holland. Judith began her career, specializing in the 400 meter individual medley and in 1961, she set a European record in the event. She then began swimming longer distances, swimming the 1500 meter freestyle, where she became the national champion in the event in 1962.
Inspired by the success of the Flying Dutchman, Herman Wilemse, Judith began competing in open water competitions in 1962. But when she entered the Canadian National Exposition, in 1964, she was a relative unknown among a field of the greatest marathon swimmers ever assembled. The CNE race was a grueling 32 miles across Lake Ontario from Toronto to St. Catherines, in near frigid waters. Almost from the start, Judith and the race favorite, the great Egyptian, Abdellatief Abouhief, swam shoulder to shoulder, trading short leads for fourteen hours before the Egyptian made his move. By then, thirteen of the eighteen swimmers who started the race suffered hypothermia and were pulled from white-capped, 53 degree water. Sixteen hours into the race, Judith, insensible was pulled out and 2 miles short of the finish line, Abouheif, suffered the same fate. While the cruelty of the swim marked the end of the CNE marathon, it was the beginning of Judith's great career. From 1965 to 1968 and again in 1970, she was ranked number one in the world and in 1969, she joined Hall of Famer, Ada Kok, as the second Dutch woman to swim the English Channel.
In 1968, de Nijs kept to her aquatic roots and married Dutch water polo player, Bob van Berkel. They had a daughter and a son who both played water polo. Judith continues to swim competitively through Masters Swimming, winning national titles. She swims the freestyle events, and currently holds records in the 100 and 200 meter freestyle events.
Like Ederle, Gleitze, and Anderson, Judith helped move the gender-equity movement forward with her courageous swims.