Happy Birthday JOHN KINSELLA !!!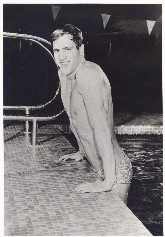 ---
JOHN KINSELLA (USA)
1986 Honor Swimmer
FOR THE RECORD: OLYMPIC GAMES: 1968 silver (1500m freestyle); 1972 gold (relay); WORLD RECORDS: 4 (400m, 1500m freestyle; 2 relays); AAU NATIONALS 11 (200yd, 400yd, 500yd 1650ye, 400m 1500m, 4 mile freestyle); NCAA CHAMPIONSHIPS: 6 (500yd, 1650yd freestyle; 2 relays); AMERICAN RECORDS: 9 (500yd, 1650yd, 400m, 1500m, 1 mile freestyle; 1 relay); 1970 Sullivan Award; World Professional Marathon Champion: 1975, 1976, 1978, 1979.
John Kinsella was a big, big swimmer at 6 ft. 3 in. and 200 lbs.
He won the Sullivan Award as the USA's #1 amateur athlete of the year in 1970, halfway between his two Olympics. He was the dominant high school middle distance swimmer, swimming for Don Watson in Hinsdale, Illinois, and the dominant college middle distance swimmer for Doc Counsilman's Indiana University. He also dominated and set records lasting 12 years in the U.S. National AAU.
Afterwards, in his professional career, Kinsella was unbeatable, being declared the World's Professional Champion on a point system including all sanctioned races from 1975 through 1979. During this time he won races across Lake Ontario, the English Channel, and all around the world circuit, usually in world record time. He retired in 1979 with no more swimming worlds to conquer having used his professional earnings to put himself through Harvard Business School.
As a milestone achievement, Kinsella was the first swimmer in history to break 16 minutes for the 1500 Meter swim in 1970.