Happy Birthday JOHN HENCKEN !!!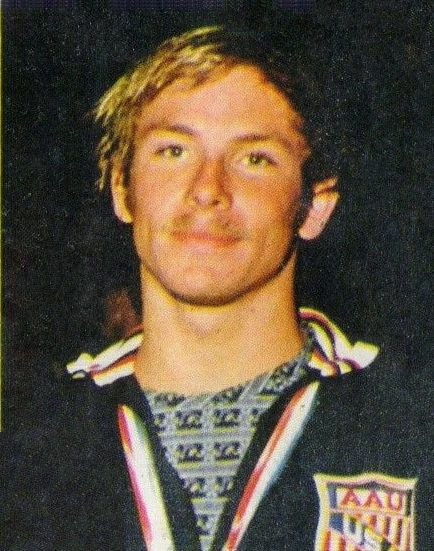 ---
JOHN HENCKEN (USA)
1988 Honor Swimmer
FOR THE RECORD: OLYMPIC GAMES: 1972 gold (200m breaststroke), bronze (100m breaststroke); 1976 gold (100m breaststroke; relay), silver (200m breaststroke); 1980 Member Olympic Team; WORLD RECORDS: 13 (100m, 200m breaststroke; 1 relay); WORLD CHAMPIONSHIPS: 1973 gold (100m breaststroke; 1 relay), silver (200m breaststroke); AMERICAN RECORDS: 21 (100yd, 200yd, 100m, 200m breaststroke; 5 relays); AAU NATIONAL CHAMPIONSHIPS: 14 (100yd, 200yd, 100m, 200m breaststroke; 3 relays); NCAA CHAMPIONSHIPS: 5 (100yd, 200yd breaststroke).
With 13 world records and 14 AAU nationals, John Hencken is the only swimmer who ever qualified for three Olympic teams in both the 100 meter and 200 meter breaststroke. Hencken was the last great (and the fastest) of all those "flat on the water" American breaststrokers who appeared in the 1960-70s. "The stroke was like a fine sports car that needs constant tuning," says Hall of Fame honor coach Howard Firby. Only Hencken survived more than a few years. He shared the era with honoree David Wilkie both indoors and out, long course and short. Without each other as constant rivals, who know how many wins each might have garnered.
In spite of or maybe because of this competition, John Hencken managed five NCAA Championships, 14 AAU Championships and 21 American records to go with his 13 world records and five Olympic medals. Unlike many breaststroke champions, no one could ever label Hencken a 100 breaststroke sprinter or a 200 man. His world records were about equally divided as he lowered the 100 meter from 1:05.68 in 1972 several times to 1:03.88 in 1974 and 1:03.11 in 1976. In the 200 he dropped the world record from 2:22.79 in 1972 to 2:18.21 in 1974. Scholar swimmer John Hencken graduated from Stanford in general engineering-product design and completed his MBA at the University of Phoenix.