Happy Birthday Jeff Farrell !!!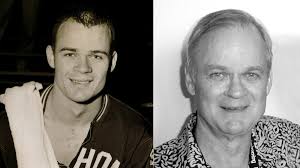 ---
JEFF FARRELL (USA) 1968 Honor Swimmer
FOR THE RECORD: OLYMPIC GAMES: 1960 gold (4x200m freestyle relay; 4×100 medley relay); Appendectomy 5 days before 1960 Olympic Trials; 1960 had world standard times in 100yd, 100m, 110yd, 200yd, 200m, 220yd freestyle; WORLD RECORDS: 4x200m freestyle; 4x100m medley relay; NATIONAL AAU CHAMPION: 1960.
No man ever overcame a greater handicap to make the U.S. Olympic swimming team than Jeff Farrell, the world's premier freestyle sprinter at the time of the 1960 Rome Olympic Games. Farrell, with world standard times at 100 yds, 100 meters, 110 yds., 200 yds., 200 meters, and 220 yds., was considered a shoo-in for the Olympic team when he came down with acute appendicitis six days before the Olympic Trials at Detroit. The operation was a success, but Farrell, wrapped in yards of adhesive tape, was considered in no shape to swim. He refused a special dispensation and took his chances in the sudden-death trials that mark U.S. team selection methods. Farrell placed fourth, and qualified for the relays. By Rome, Farrell was fully recovered and anchored both U.S.A. men's relays to Olympic and world records for his two Olympic gold medals.
Farrell's whole swimming career was a classic example of determination. A good high school swimmer from Wichita, Kansas, he enrolled at Oklahoma, talked athletic director Bud Wilkinson into hiring Matt Mann, the retired Michigan coach. Under Mann, Farrell became a Conference champion, worked his way up to the finals in NCAA and NAAU championships. Just about the time Farrell was ready to make his run for the top, he wrecked his shoulder in a dormitory wrestling match. His senior year in college, with a long scar marking the shoulder operation, he was a solid third in the Nationals. Pretty good swimming, but Farrell was not ready to quit. He became a Navy ensign and was assigned to the ROTC at Yale where he worked out with retired Yale coach Bob Kiphuth, and finally reached his potential without injury. Farrell was unbeatable that winter at Yale, winning the National AAUs. Everyone–Matt Mann, Bob Kiphuth, the swimmers–agreed it couldn't happen to a nicer guy. Even Farrell must have figured he was finally home free until the appendectomy came to handicap him once more.