Happy Birthday JANET EVANS !!!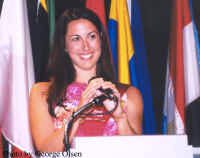 ---
JANET EVANS (USA)
Honor Swimmer
FOR THE RECORD: 1988 OLYMPIC GAMES: gold (400m freestyle, 800m freestyle, 400m IM); 1992 OLYMPIC GAMES: gold (800m freestyle), silver (400m freestyle); 1996 OLYMPIC GAMES: participant; SEVEN WORLD RECORDS: 2 (400m freestyle), 3 (800m freestyle), 2 (1500m freestyle); 1991 WORLD CHAMPIONSHIPS: gold (400m freestyle, 800m freestyle), silver (200m freestyle); 1994 WORLD CHAMPIONSHIPS: gold (800m freestyle), bronze (4x200m freestyle relay); 1993 SHORT COURSE WORLD CHAMPIONSHIPS: gold (400m freestyle, 800m freestyle, 4x2OOm freestyle relay); 45 U.S. NATIONAL CHAMPIONSHIPS: 11 (400m freestyle),
2 (400y freestyle), 2 (1000y freestyle), 12 (800m freestyle), 1 (1650y freestyle), 8 (1500m freestyle), 1 (200m IM), 2 (400y IM), 5 (400m IM); 7 NCAA NATIONAL CHAMPIONSHIPS: 2 (500y freestyle), 2 (1650y freestyle), 2 (400y IM), 2 (4x200y freestyle relay).
Being teased by other swimmers because of her lack of height and weight while growing up only fueled her to be more competitive and vigorous in the water. Even at 5 feet 4 inches and 99 pounds during her peak years, Janet Evans turned her "windmill-in-a-hurricane" stroke into the machine that won one silver and four Olympic gold medals, set seven world records and qualified for three successive Olympic teams. She was the first American woman to win four individual Olympic gold medals in swimming. As a distance freestyler and 400 IMer, she turned in over half of the top ten 400m and 800m freestyle world best performances in a four-year period. After Shane Gould of Australia, she is only the second female swimmer to hold three world records concurrently (400m, 800m and 1500m freestyle), recognizing her as the USA's greatest female distance swimmer. In just a few short years, she was groomed from swimmer to world hero.
Evans was a very active child who loved swimming. By age three she could do at least half of an I.M.. As a member of the Fullerton Aquatic Swim Team under coach Bud McAllister, she was a coach's dream, always trained hard, never complained and focused on improving. All but the fly came naturally to her. In 1984 at age thirteen, she won her first U.S. Junior Nationals (1500m freestyle). In 1987 she opened onto the national and international scene winning her first of 45 U.S. National Championships over a nine year period and first of 12 Pan Pacific gold medals having qualified in four Pan Pacific Championships. 1987 was also the first year of three World Swimmer of the Year titles (1987,1989,1990).
In the year before the 1988 Seoul Olympic Games, Janet set three of her seven World Records. Her 400m freestyle time of 4:05.45 broke Hall of Famer Tracy Wickham's (AUS) nine-year-old mark and her 8:17.12 800m freestyle time broke the 1978 world record time, also held by Tracy. Janet also set the 1500m freestyle record at 16:00.73, beating Hall of Famer Kim Linehan's 1979 world mark. During her career, Janet set each of these records a second time and a third time for the 800m.
The next year in Seoul, Janet became the first female since Hall of Famer Debbie Meyer in 1968 to win three individual Olympic events – the 400m and 800m freestyle and 400m individual medley. It was her trademark "bursts of speed," a rapid and timely increase in stroke rate towards the end of each race, that boosted her to defeat competitors sometimes 60 pounds stronger and with longer arms and bodies. By capturing the golds, she captured the hearts of millions of people. At age 17 and still a student at El Dorado High School, Placentia, California, she became a household name, a celebrity and public speaker.
In 1989, she was elected U.S.O.C. Sports Woman of the Year and received the Sullivan Award as the most prestigious amateur athlete in the United States. This is only the fourth time in the award's history that a female swimmer has been the recipient.
After two years at Stanford University in the early 1990s swimming for Olympic coach Richard Quick and winning 7 NCAA National Championships as well as NCAA Swimmer of the Year, Janet moved to Austin, Texas to be with Olympic coach Mark Schubert who prepared her for the 1992 and 1996 Olympic teams. In Barcelona in 1992, Janet made Olympic history by becoming the first female to win the 800m freestyle for a second time. She also won the silver in the 400m freestyle. At the 1996 Atlanta Olympics at the age of 24, she competed as captain on her third U.S.A. Olympic team, culminating a career filled with success and excitement.
Janet's familiar pose was standing on top of the victory stand. She won six medals at the 1991 and 1993 short course and 1994 World Championships. After college competition, she became eligible to pursue many sponsorship endorsements. She was elected to the First FINA Athletes Commission (1992), chosen as the Atlantic Games Olympic stadium torchbearer with Mohammed Ali and had "The Janet Evans International" in Los Angeles named in her honor. This energy-efficient, two-beat freestyle swimmer, unusually humble with a smile that won a million hearts, is a swimmer who loved competition, loved racing and loved sharing it with all who asked.
Janet has been a great friend to ISHOF since she was inducted in 2001 (has it really been 19 years ago?) She has been back many times to visit, emcee the Honoree Ceremonies, represent USA Swimming and more! We are ready for your next trip to Fort Lauderdale Janet! We miss you!