Happy Birthday JAN HENNE !!!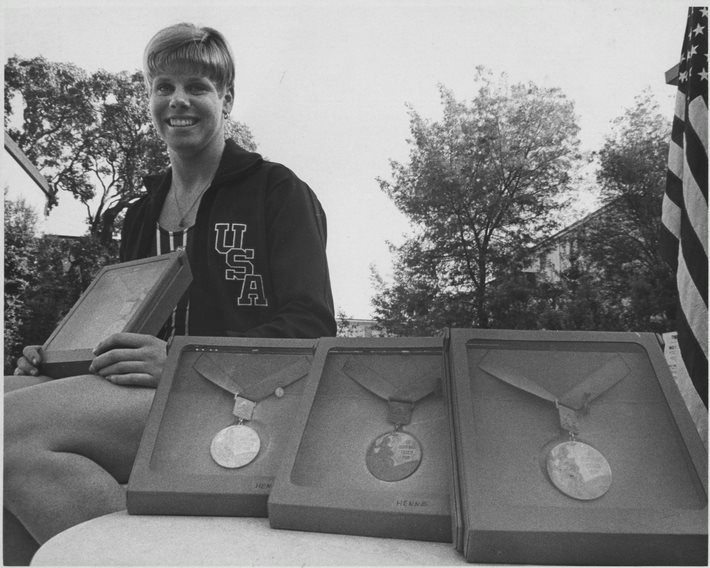 ---
JAN HENNE (USA)
1979 Honor Swimmer
FOR THE RECORD: OLYMPIC GAMES: 1968 gold (100m freestyle; 400m freestyle relay), silver (200m freestyle), bronze (200m individual medley); U.S. NATIONAL AAU CHAMPIONSHIPS: 9; NATIONAL COLLEGIATE CHAMPIONSHIPS: 4 AMERICAN RECORDS: 8.
In July, 1968, Jan Henne and her coach, George Haines, decided she was to become a freestyler and 3 months later she medaled in 4 events at the Mexico City Olympics. Primarily a breaststroker and water polo player, Henne was an AAU All-American in 1965, 1966, and 1967 with American Records in the 100, 100 and 250 yard breaststroke. A breaststroke finalist in the Nationals starting in 1963 and in the 1964 Olympic Trials, Jan shifted to Santa Clara in the fall of 1967 and was a sensation in the 1968 Indoor Nationals with 4 gold medals in the 100 yard breaststroke and the 3 American Record relays, plus third in the 200 yard breaststroke and 200 yard individual medley. She won 4 events for Arizona State in the 1970 National Collegiates. Her coaches were John Williams at Palo Alto, George Haines at Santa Clara, and Mona Plummer at Arizona State.