Happy Birthday ISTVAN SZIVOS, SR. !!!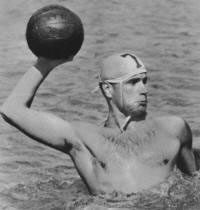 ---
ISTVAN SZIVOS, SR. (HUN)
1997 Honor Water Polo Player
FOR THE RECORD: 1948 OLYMPIC GAMES: silver; 1952 OLYMPIC GAMES: gold; 1956 OLYMPIC GAMES: gold; 1947 EUROPEAN CHAMPIONSHIPS: 4th; 1954 EUROPEAN CHAMPIONSHIPS: gold.
Istvan Szivos, Sr. was one of the great water polo players of the post World War II era in Hungary. He participated on three Olympic teams, winning gold medals at Helsinki (1952) and Melbourne (1956) and a silver at London (1948). He also won the gold at the 1954 European Championships in Torino.
Born in 1920, Szivos, Sr. took a liking to swimming during his early childhood when he spent most of his afternoons by the Tisza River. His first international competition came in 1947 at the Monte-Carlo European Championships where his team took 4th place.
Szivos competed on the M.A.C. and Vasas Clubs. As a member of three Olympic teams for Hungary, he competed with Hall of Famers Dezso Gyarmati, Gyorgy Karpati and Kalman Markovits.
His son, Istvan, Jr., played on four Olympic water polo teams beginning in 1968, winning a gold, silver and two bronze medals. Istvan, Jr. preceded his father by one year as an Honoree in the International Swimming Hall of Fame.