Happy Birthday IRENE GUEST !! Honor Pioneer Swimmer and 1920 Olympian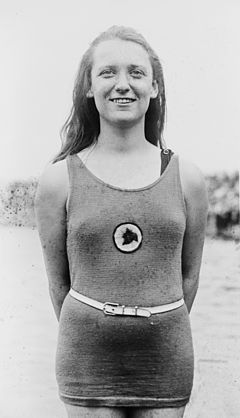 ---
IRENE GUEST (USA)
1990 Honor Pioneer Swimmer
FOR THE RECORD: OLYMPIC GAMES: 1920 gold (relay), silver (100m freestyle).
Irene Guest, also known by her married name, Irene Loog, was a Philadelphia born, American Olympic Champion and World Record Holder. She represented the United States as a 19-year old and had either the good fortune or the misfortune of swimming on the same U.S. Olympic team (1920) with the all-time great Ethelda Bleibtrey. Bleibtrey won everything, which left Guest with a silver medal in the 100 meter freestyle (1:17.0), but a gold medal in the 400 meter "team race" (relay) in the Olympic and world's record time of 5:11.6. The team consisted of Frances Cowells Schroh, Honorees Margaret Woodbridge, Bleibtrey and Guest, pictured below. Irene swam for the Philadelphia Meadowbrook Club and Temple University.

Irene was born on today, July 22, in the brand new year of 1900.