Happy Birthday Igor Milanovic, ISHOF 2006 Honor Water Polo Player!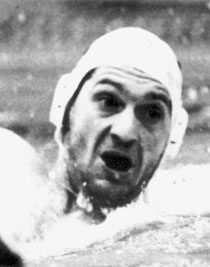 ---
Igor Milanovic 2006 Honor Water Polo Player
FOR THE RECORD: 1984 OLYMPIC GAMES: gold; 1988 OLYMPIC GAMES: gold; 1986 WORLD CHAMPIONSHIPS: gold; 1991 WORLD CHAMPIONSHIPS: gold; 1987, 1989 WORLD CUPS: gold; SCORED 450 GOALS IN MORE THEN 300 INTERNATIONAL COMPETITIONS; CONSIDERED ONE OF THE BEST CENTERS IN THE WORLD
Yugoslavia won its first water polo Olympic gold medal in 1968, breaking Hungary's (and to a lesser degree, Italy's) Olympic water polo dynasty. Hall of Fame players, Mirko Sandic, Zdravko Korvacic and Zoran Jankovic all helped give special rise to Yugoslavia's water polo success. Although Yugoslavia won the silver medal 12 years later in 1980, it was in 1984 and 1988 that they won back-to-back gold medals in Olympic competition, largely due to the driving ability of the great Igor Milanovic. The Partizan Club was the country's leading water polo team and produced most of the Yugoslavian Olympic players, including 6'10" Milanovic.
Igor joined the Partizan Club Team at age ten in 1975 and under the coaching of Nicola Stamenic and Vlaho Orlic; he soon became a skillful and inspirational player. At age 18, legendary coach Ratko Rudic promoted him from the junior team to the national team just in time for the 1984 Olympics in Los Angeles where he was instrumental in his team winning the gold medal. Four years later at the 1988 Seoul Olympics, he once again steered his team to gold. At the height of his career, the Balkan War prevented his team from competing during the years between 1992 to 1995, thus forfeiting the 1992 Olympics.
Throughout his career, he also competed for Mladost, Croatia; Roma, Italy; and Katalugnia, Spain, the latter two in the Professional League. His career includes over 300 international competitions. He has scored over 450 goals
Each of his coaches place him in high regard with Coach Rudic stating that he is the only player who could play in every position on the team.