Happy Birthday Honor Water Polo Player: CARLO SILIPO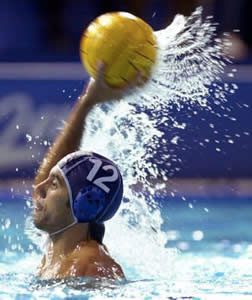 ---
Carlo Silipo (ITA)
2014 Honor Water Polo Player
FOR THE RECORD: 1992 OLYMPIC GAMES: gold; 1996 OLYMPIC GAMES: bronze; 2000 OLYMPIC GAMES: participant; 2004 OLYMPIC GAMES: participant; 1994 WORLD CHAMPIONSHIPS: gold; 2003 WORLD CHAMPIONSHIPS: silver; 1993 EUROPEAN CHAMPIONSHIPS: gold; 1995 EUROPEAN CHAMPIONSHIPS: gold; 1999 EUROPEAN CHAMPIONSHIPS: bronze; 2001 EUROPEAN CHAMPIONSHIPS: silver; 1993 FINA WORLD CUP: silver; 1995 FINA WORLD CUP: silver; 1999 FINA WORLD CUP: silver; 2003 FINA WORLD LEAGUE: silver; 1991 MEDITERRANEAN GAMES: silver; 1993 MEDITERRANEAN GAMES: gold.
He started in water polo with the Rowing Club of Naples, moved up to the famed Club Posillipo and became one of the most important players in Neopolitan and Italian water polo history.
When he joined the national team in 1992, Italy hadn't won a gold medal in water polo since 1960 and finished a distant sixth in the 1991 World Championships. But it did have Ratko Rudic, the gruff disciplinarian who coached Yugoslavia to its Olympic championships in 1984 and 1988.
Rudic changed the Italian water polo culture. He brought a winning philosophy with him to Italy, and selected a core of young players who were willing to train until they dropped and pummeled their opponent into submission, no matter how long it might take. Carlo Silipo, only 21 years old, bought into the system. At six feet, six inches tall and weighing 210 pounds, he had the physical qualities Rudic was looking for at the center defender position and Silipo became the leader and symbol of Italy's famed Settebello, or "seven diamonds" for the next fifteen years.
His greatest success came early, when he helped Italy win the gold medal over the home team favorite at the '92 Olympics in Barcelona. Behind Silipo's stellar defense, Italy held a 6-3 lead in the third period and seemed to have the game under control, but Spain rallied behind their flamenco-beat clapping fans, and their superstar, Hall of Famer Manuel Estiarte, to send the game into overtime. With defense the key, Italy ended on top when Gandolfi scored the winning goal in the sixth overtime period.
If there was a more exciting game in Olympic history, it might be the bronze medal match in Atlanta, when Silipo's Settebello beat the Hungarians, again in overtime.
Playing for CN Posillipo, in the world's premier professional league, Silipo led his team to seven league championships and scored 574 goals in 462 appearances, a record for a defender. He retired in 2006 and is the fifteenth Italian to enter the Hall of Fame and the eighth for water polo.
"Carlo Silipo is a great role model," said Paolo Barelli, President of the Italian Swimming Federation. "A leader in the tank, professional in his training, generous with advice and encouragement to his teammates and always congratulatory for his opponents."