Happy Birthday Honor Swimmer Tracey Wickham !!!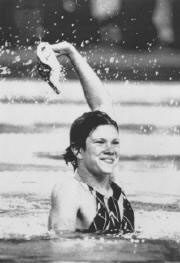 ---
TRACEY WICKHAM (AUS) 1992 Honor Swimmer
FOR THE RECORD: OLYMPIC GAMES: 1976 Olympic Team Member; WORLD CHAMPIONSHIPS: 1978, gold (400m & 800m freestyle); AUSTRALIAN CHAMPIONSHIPS: 17 (200m, 400m, 800m & 1500m freestyle, 100m butterfly); WORLD RECORDS: 5 (400m, 800m, 1500m freestyle); COMMONWEALTH GAMES: 1978, gold (400m & 800m freestyle), silver (200m freestyle & relay), bronze (relay); 1982 (400m & 800m freestyle); U.S. OPEN RECORD: 1 relay; AAU: 1 relay; FINA CUP: 1979, silver (400m freestyle), 6th (100m butterfly), 5th & 6th (relays).
Tracey Wickham of Australia set world records in the 400-meter and 800-meter freestyle in 1978. It was not until 1987 that Janet Evans of the USA broke them– a period of 9 1/2 years. All totaled, she set five world records in the 400-meter, 800-meter and 1500-meter freestyles in a a period of two years.
Born in Melbourne, Victoria, in 1962, Tracey began swimming at age eight and broke her first State age group record in the 200-meter backstroke at age 10. Her first National gold medal came in the 200-meter individual medley at age 12, but it was the middle and distance freestyles which were to be Tracey's strong events. By age 13, she had made the 1976 Australian Olympic team as the youngest competitor on the team.
It was the year following the Olympics that Tracey and her family moved to Mission Viejo for a nine month period and trained with Mark Shubert. Upon returning to Brisbane, Tracey broke the 1500-meter freestyle world record in a solo swim. Two weeks later she broke the 800-meter freestyle world record and only six months later, the 400-meter freestyle world record. Before the next year was over, she broke the 1500-meter and 800-meter freestyle world records again.
Tracy dominated the middle distance freestyle event for women in the years preceding the 1980 Moscow Olympics.
In 1978 Tracey started a nine week international swimming tour in Edmonton, Alberta, Canada, by taking six seconds off the 800-meter freestyle world record of teammate Michelle Ford at the Commonwealth Games. Next came the Berlin World Championships that same month and another record in the 400-meter freestyle where she also went on to win the 800-meter freestyle a few days later. She became Australia's only gold medalist at the Championships and her country's first gold medalist in World Championship history. Her remarkable accomplishments were all the more spectacular as her taper was getting stale after nine weeks on the road. Six months later she reset the 1500-meter freestyle world record in the Australian Championships in Perth.
Tracey was selected for the 1980 Australian Olympic team but pulled out for personal and family reasons. She retired, but came back eight months later to win gold medals in the 100-meter butterfly and 200-meter freestyle at the Australian National Championships. Her coach, Laurie Lawrence, was her inspiration to continue training for the 1982 Commonwealth Championships in her hometown of Brisbane where she repeated her 400-meter and 800-meter freestyle victories from four years earlier and took the silver in the 200-meter freestyle.
Before Tracey was through, she had 260 Australian records, twelve Commonwealth records, and was voted the Australian Sportsperson of the Year in 1978, as well as receiving the Australian Sportswoman of the Year, 1978 and 1979. Queen Elizabeth presented her with the prestigious M.B.E.–Member of the British Empire recognition in 1978.