HAPPY BIRTHDAY GUYS!!!! WE CELEBRATE SWIMMERS ALEX BAUMANN AND RICK DEMONT TODAY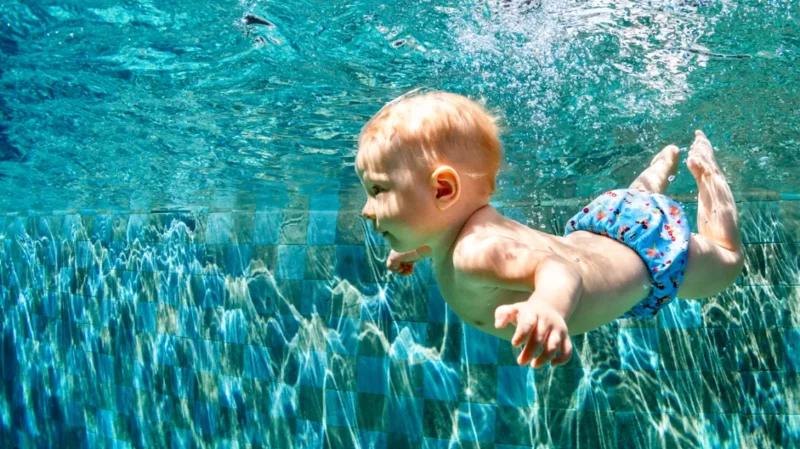 ---
Alex Baumann (CAN)
Honor Swimmer (1992)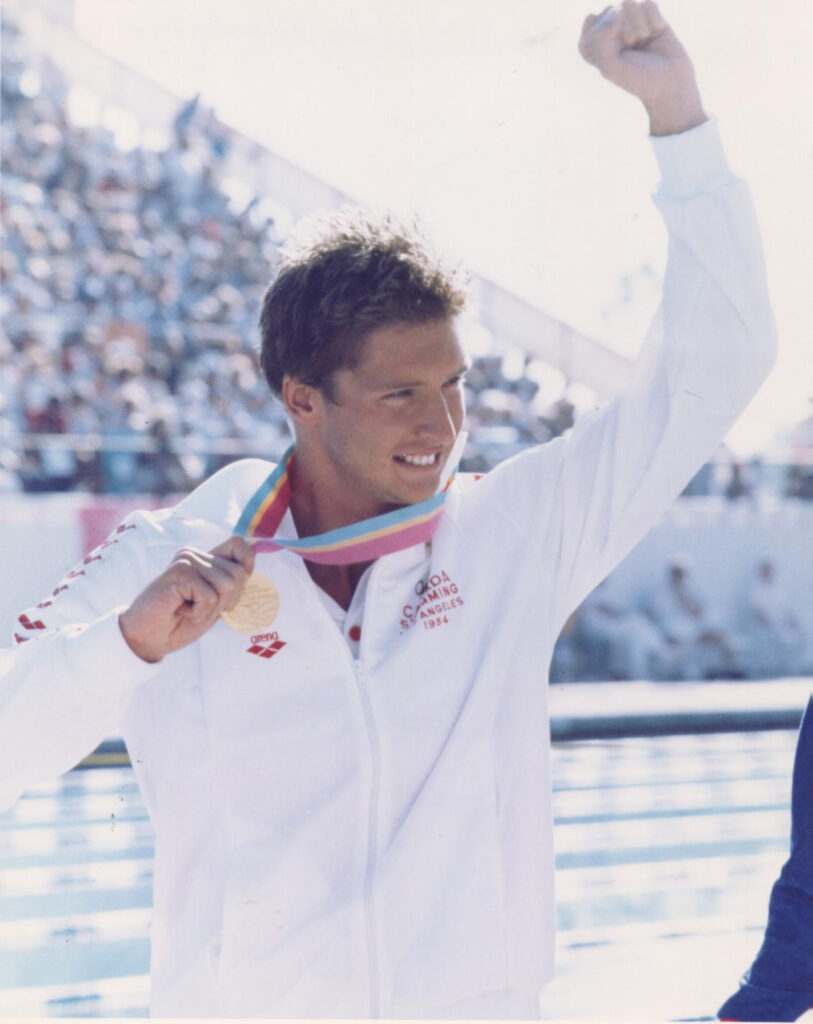 The information on this page was written the year of their induction.
FOR THE RECORD: OLYMPIC GAMES: 1984 gold (200m & 400m individual medley); PAN AMERICAN GAMES: 1979 bronze (400m individual medley); FINA CUP: 1979 gold (400m individual medley); WORLD RECORDS: 5 (200m individual medley), 5 (400m individual medley); COMMONWEALTH GAMES: gold, 2 (200m individual medley), 2 (400m individual medley); CANADIAN NATIONAL CHAMPIONSHIPS: 34 titles, 32 national records; WORLD CHAMPIONSHIPS: 1986 silver ( 200m individual medley), bronze (400m individual medley).
It was in 1912 that Canadian Olympian George Hodgson won gold medals in swimming for Canada. It was not until 72 years later that Alex Baumann of Sudbury, Ontario won the next gold medal for Canada in swimming. Baumann won the 200m and 400m individual medley, establishing world records in both. Bauman joins only two other Canadians to win in a summer Olympics before him–Hodgson and runner Percy Williams in 1928. Teammates Victor Davis and Ann Ottenbrite joined Alex as Olympic champions in 1984, winning the men's and women's breaststroke.
From 1978-1987, Baumann won 34 Canadian National Championships, establishing 32 national records in the sprint freestyle as well as both individual medley events. He swam all events: backstroke, breaststroke and butterfly. He started as an age group swimmer who reached every young swimmer's goal–the Olympic gold. Baumann won five golds in Commonwealth Games competition and established a total of three world records in the 200 I.M. and two world records in the 400 I.M.. Undefeated from 1981 through 1986, Alex's records stood for six years.
Alex, known as Sasa to his family and close friends, was born in Prague, Czechoslovakia and came to Canada with his parents as a young boy. He learned how to swim at age five and soon after joining the Laurentian University Swim Club, which he would coach 20 years later, showed talent for the sport. His large hands and feet worked like paddles and his intense training turned swimming into his life.
Through long-term collaboration with his coach of fourteen years, Dr. Jeno Tihanyi, Alex overcame obstacles which would have defeated a lesser champion. He had repeated bouts of tendonitis and shoulder problems which prevented him from competing for most of 1982, including having to miss the World Championships. The deaths of his father and older brother left profound gaps in his life, but Tihanyi played a major role in keeping him focused on his goals. Perhaps his single most admired quality was his disciplined approach to swimming. He always gave 100 percent. Every swim was a race. Nothing was wasted. Alex was a bit of a prankster, but never lost his humbleness and feel for his teammates and others. His self-determination to excel, coupled with a swimming program geared to his style, were the keys to his success.
Following his retirement, Alex became a sports broadcaster for CBC television at the 1988 Olympic Games. Among his many honors, he was the Canadian Press Male Athlete of the Year in 1984 and was chosen as the flag bearer at the 1982 Commonwealth Games, 1983 World University Games and the 1984 Olympic Games.
Rick DeMont (USA
)
Honor Swimmer (1990)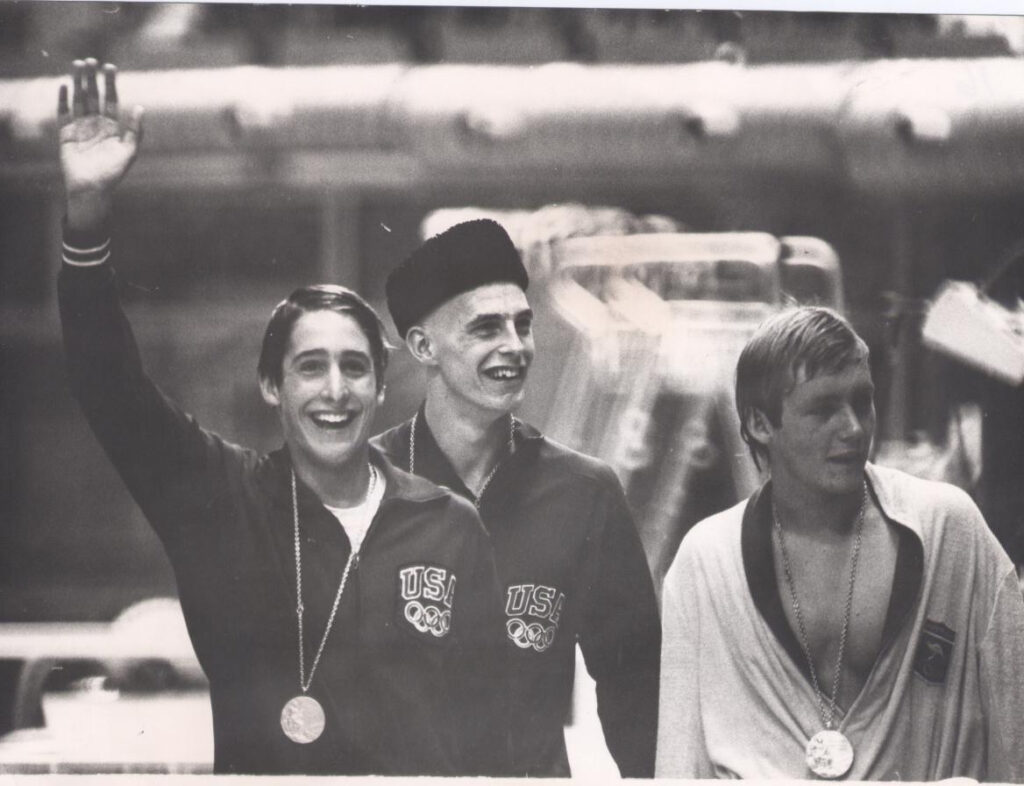 The information on this page was written the year of their induction.
FOR THE RECORD: WORLD RECORDS: 3 (400m, 1500m freestyle; relay); WORLD CHAMPIONSHIPS: 1973 gold (200m freestyle), silver (1500m freestyle); PAN AMERICAN GAMES: 1975 gold (relay), silver (200m freestyle); AMERICAN RECORDS: 4 (400m, 1500m freestyle; 2 relays); AAU RECORDS: 5 (400m, 1500m freestyle; relays); First under 4 minutes for 400m freestyle.
Rick DeMont was born in San Rafael California, April 21, 1956. It did not take him long to become a record breaker, as seen by his 10 and under age group national record. Rick developed as a dominant middle distance swimmer, leading to his first world mark of 15:52.91 in the 1500 meters freestyle at the age of 16.
Then it was the 1972 Olympic Games in Munich. At age 16, Rick DeMont became the youngest male swimmer ever to win the Olympic 400 meter freestyle, and he was favored to win the 1500 meter event too. He had already qualified for the finals. Then, suddenly he was removed form the pool, stripped of his medal and disqualified from any further competition. It seemed grossly unfair at the time, and times have not changed the feeling in most of us. It seems that Rick's asthma medication included a trace of a substance called ephedrine, which was banned by the Olympic Medical Commission. When he was tested, it showed up in his sample. He made no attempt to hide it, for he had written it on his medical questionnaire form. The U.S. team doctors, not the 16 year old kid, were guilty. There was no way this trace of medication could have affected the outcome of DeMont's race performance, even though he had been using medication to enable him to exercise with asthma since the age of four. However, the rule was innocently broken, and Rick is still hoping someday his case will be reviewed.
In 1973, at the first World Championships in Belgrade, Yugoslavia, DeMont won the 400 meter freestyle, without the banned substance, beating Brad Cooper, the Australian who had won De Monts's Olympic gold medal by default. Cooper, who wanted to win it in the pool, was magnificent, but he lost by .52 seconds as Rick won in a new world record of 3:58.18 the first man to break the four minute barrier for the distance. Cooper was also under the four minute barrier, but lost by a touch.
1973 is the same year Rick was voted World Swimmer of the Year.
Today, Rick is an artist living in California. His achievements as the best in the world will always remain.
#ishof #usaswimming #rickdemont #alexbaumann #SwimmingCanada #artist #arizonawildcats #honorees #olympics #worldrecords