Happy Birthday Gianni Lonzi!!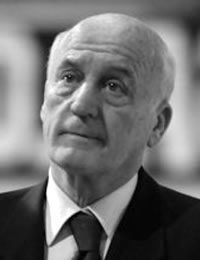 ---
Gianni Lonzi (ITA)
Honor Water Polo (2009)
FOR THE RECORD: ATHLETE: 1960 OLYMPIC GAMES: gold;1964 OLYMPIC GAMES: 4th; 1968 OLYMPIC GAMES: 4th; 1963 MEDITERRANEAN GAMES:gold; 1967, 1968 ITALIAN NATIONAL CHAMPIONSHIPS: gold; COACH: 1976 OLYMPIC GAMES: silver; 1975 WORLD CHAMPIONSHIPS: bronze; 1978 WORLD CHAMPIONSHIPS: gold; 1977 MEDITERRANEAN GAMES: gold; 1977 EUROPEAN JUNIOR CHAMPIONSHIPS: gold; ADMINISTRATOR: 1988 to Present: VICE CHAIRMAN LEN EUROPEAN WATER POLO COMMITTEE; FINA TECHNICAL WATER POLO COMMITTEE: MEMBER SINCE 1992, CHAIRMAN SINCE 1996.
He was born in Florence in 1938, just steps away from the famous swimming club, Rari Nantes Firenze. On his first visit to the club, the legendary water polo figure Giordano Goggioli, threw him into the river Arno, saying: "Now you have to swim".
He excelled in swimming and at the age of fifteen won a national title in the backstroke, but Gianni Lonzi could not resist the fascination of the ball and the cage of Water Polo. In 1953, he made his debut in the 1st Division of the Italian Water Polo league, where he proved to be an all around and tenacious player. He played for RN Firenze from 1953 to 1963 combining the roles of player, captain and coach. In 1964, he moved to Camogli assisting his team to its promotion to the 1st division. In 1967 and 1968 he played for Pro Recco, winning two National Championships. He played on the National team from 1958 up to the 1968 Mexico Olympic Games, winning the gold medal at the Rome 1960 Olympic Games and then participated in Tokyo 1964 and Mexico 1968.
After he concluded his career as an athlete in 1968,Hall of Famer Mario Majoni, the National team's coach, called on him to coach the National Junior team. In a few years he replaced Majoni and led Italy to a bronze medal at the1975 World Championships, silver at the 1976 Olympic Games and the gold at the 1978 World Championships. During this time he also coached the 1977 and 1982 junior teams to gold medals. If that wasn't enough, he became the Vice Chairman of the LEN water polo committee in 1988, was appointed to the FINA Technical Water Polo Committee (TWPC) in 1992 and became Chair of the TWPC in 1996 – a position he will continue through 2012.
Among his many achievements as Chairman of the committee that sets the agenda for world water polo, are the addition of women's water polo to the Olympic program and the establishment of the FINA World Water Polo Leagues for both men and women.