Happy Birthday Gary Tobian!!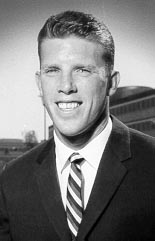 ---
Gary Tobian (USA)
Honor Diver (1978)
FOR THE RECORD: OLYMPIC GAMES: 1956 silver (platform); 1960 gold (springboard), silver (platform); PAN AMERICAN GAMES: 1959 gold (3m springboard); NATIONAL AAU Diving Titles: 8.
Gary Tobian, a successful Los Angeles business man, owned the tower as U.S. National Champion for six years, but won his international gold medals in both the Olympics and Pan American Games off the springboard. He was the last in a long line of U.S.C. National Collegiate and AAU diving champions medaling in two Olympics, 1956 Melbourne and 1960 Rome.