Happy Birthday Gail Neall!!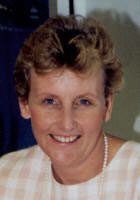 ---
Gail Neall (AUS)
Honor Swimmer (1996)
FOR THE RECORD: 1972 OLYMPIC GAMES: gold (400m I.M.), 7th (200m butterfly); ONE WORLD RECORD: 400m I.M.; 1970 COMMONWEALTH GAMES: silver (400m I.M.); 1974 COMMONWEALTH GAMES: bronze (200m butterfly; THREE AUSTRALIAN NATIONAL CHAMPIONSHIPS; SEVEN NATIONAL RECORDS; THREE CANADIAN OPEN RECORDS.
At age eight, her coach, Queensland's Marlene Towne, couldn't get her to take her foot off the bottom of the pool, but once she did Gail Neall swam like a bullet spun out of its barrel.
The local swim coach said she was not good enough to join the swim team, so she joined up with coach Arthur Cusack until which time her family moved to Sydney where Gail, at age ten, got her first treat of swimming for the legendary coach Forbes Carlile.
With good coaching, success came quickly for Gail. At age eleven, she won her first age group New South Wales Championship in the 100m backstroke. At age twelve she entered her first Australian National Championship and competed for eight years at this meet, winning three National Championships.
By 1970 she had qualified for the Commonwealth Games of Edinburgh as the youngest member of the Aussie team and weighing only 111 pounds. She won the silver medal which gave her the incentive to aim for the Olympic Games of 1972.
She sought the tutelage of Commonwealth Games coach Don Talbot who, as a master motivator, prepared her for her biggest challenge: the Olympic Games of 1972. Qualifying at the Olympic Trials in Brisbane, Gail competed in three grueling events in Munich – the 200m individual medley, 200m butterfly and 400m individual medley. In her strong event, the 400m individual medley, she qualified sixth after the preliminaries but in the finals she surprised the world by dropping an incredible nine seconds from her heat time and winning the gold medal for Australia, breaking Claudia Kolbs' four year world record. Gail became the last swimmer to hold the 400m individual medley world record before the East German swimmers set the record 21 out of the last 23 years.
In 1974, Gail retired from swimming and on a teaching scholarship attended Kuring Gai College of Advanced Education. She married Ross Yeo and moved to Mendooran, where they now live on a farm with their four children. She does some casual teaching and tries to swim for exercise, difficult to do as she lives about as far away from water as you can get.
Gail Neall visits schools talking to children about doing their best and striving to reach their goals. She was the best in the world – she went as far as a swimmer can go, the Olympic Championship. Now her championship attitude to life strive to make champions of us all.