Happy Birthday Frank Gorman !!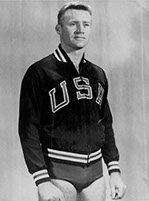 ---
Frank Gorman (USA) 2016 Honor Pioneer Diver
FOR THE RECORD: 1964 OLYMPIC GAMES: silver (3m springboard); HARVARD UNIVERSITY: never lost a dual meet diving competition; NCAA ALL-AMERICAN DIVER: 1m, 3m springboard from 1957-1960.
Before 1973, there were no World Championships, World Diving Cups or Grand Prix Diving series. For divers there was only one chance to test their skills in the international arena every four years and that was at the Olympic Games.
In 1952, Francis Xavier Gorman became the youngest boy to win the New York City Public School Athletic League Diving Championships. When he won the title for the fourth time in a row, he caught the eye of Harvard University's coach, Harold Ulen. At Harvard, Gorman became an immediate success. He was an All-American on both the 1-meter and 3-meter springboards in each of his four years, from 1957 through 1960 and amazingly, never lost a dual meet competition. In 1960, he was the Eastern Intercollegiate Champion on both boards.
After graduating, he set his sights on the Olympics, but failed to make the team. Extremely disappointed, Frank entered the Navy, where he was eventually assigned to the physical education department at the US Naval Academy, in Annapolis, Maryland.
For three years, Frank agonized over not making the 1960 Olympic team and he vowed if he ever got another chance, he would make the most of it. He contacted his friend and fellow competitor, Tom Gompf, who recommended they train together with coach Dick Smith, who at the time, was one of the world's greatest diving coaches.
At the 1964 US Olympic Diving Trials, Gorman qualified for the Tokyo games on the 3-meter springboard with a record breaking point total. Of the 12 available slots on the US Men's and Women's Diving Team, Coach Dick Smith's divers claimed six of them – with Frank Gorman and Tom Gompf taking two of the spots.
In Tokyo, Frank Gorman gave one of his finest performances. With the highest scores of the competition on each of his first eight dives, Frank was firmly on track for the gold medal, but on his second to last dive he missed badly. Although he recovered to receive the highest scores of the competition on his last dive, he still finished two points behind teammate Ken Sitzberger – but 14 points ahead of teammate, Larry Andreasen to claim the silver. For anyone at the event, there was little doubt that except for one dive Frank Gorman had turned in one of the truly outstanding performances of the 1964 Olympic Games.
After Gorman's career as an athlete ended, he continued to stay involved in diving and giving back to the sport he loved