Happy Birthday Felipe Munoz!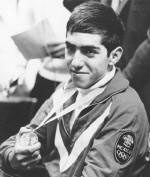 ---
FELIPE MUNOZ (MEX) 1991 Honor Swimmer
FOR THE RECORD: OLYMPIC GAMES: 1968 gold (200m breaststroke); PAN AMERICAN GAMES: 1971 silver (200m breaststroke), bronze (200m individual medley).
Although he was nicknamed Tibio (Spanish for lukewarm) after his father from the village of Aguacalientes (hot water) and his mother from the village of Rio Frio (cold water), Felipe Munoz was the hottest name in Mexican swimming history.
After ten days of competition at the 1968 Olympic Games in Mexico City, the host country had not won a single gold medal. And at age 17, Munoz was not figured to win the 200 meter breaststroke, even with the hometown advantage. But, to everyone's surprise, Munoz qualified first for the final with a 2:31.1. Pitted against the top Soviet breaststrokers Kosinsky, Pankin, and Mikhailov, as well as Americans Brian Job and Philip Long, Munoz proved in the final meters of the race that you don't have to have the lead if you have the heart to come from behind.
The race has been described as one of the most emotional in Olympic history. Munoz was in fourth place at the 100 meter mark, but began closing on the lead swimmer unnoticed. With 50 meters to go, Munoz exploded off the wall to pass Pankin, Job and Kosinsky. The crowd went wild, chanting in unison for their native countryman, "Mu-noz, Mu-noz, Mu-noz". Touching first at 2:29.9 seconds, Felipe Munoz won Mexico's first Olympic gold medal in swimming and sparked a celebration that lasted for hours.
After the Olympics, Felipe continued his swimming career and went on to swim at the 1971 Pan American Games where he won a silver and bronze medal in the 200 meter breaststroke and 200 meter I.M. respectively.