Happy Birthday Evgeni Sadovyi !!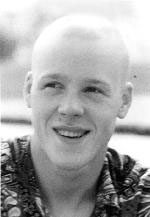 ---
EVGENI SADOVYI (EUN) Honor Swimmer
FOR THE RECORD: 1992 OLYMPIC GAMES: gold (200m freestyle, 400m freestyle, 4×200 freestyle relay); TWO WORLD RECORDS: 400m freestyle, 4x200m freestyle relay; 1991 EUROPEAN CHAMPIONSHIPS: gold (400m freestyle, 4x200m relay); 1993 EUROPEAN CHAMPIONSHIPS: gold (2 relays), silver (200m freestyle).
In 1992, Evgeni Sadovyi of the United Team was chosen World Swimmer of the Year. Probably never before has there been a more unexpected winner of this award. He had been ranked third and ninth in the 400m and 200m freestyles in 1991, but in Barcelona he captured 3 Olympic gold medals – the most in men's competition. He shattered the world record by 1.95 seconds in the 400m freestyle and achieved the world record-setting 800m free relay.
Born in 1973 in Volzsky, Russia, Sadovyi started swimming at age six. In an economically depressed region, his grandmother took him to swim, with the dream of making it to the Olympic Games. In 1981, his family moved to Volgograd where he continued swimming on the "TROUT" team of kids. His mother worked long-hard hours to support him both morally and financially. After a year of disappointment academically in a special sports training school, his mother enrolled him in the School of Olympic Reserve where he grew with success. Three years later in 1983, his coach Victor Avdienko began training him for international competition. Soon after, in the USSR vs. GDR Dual Meet, he won the 400m freestyle and 4 x 200m medley relay. The next year in 1988, he won the National 4 x 200m medley relay. It was here he was presented a copy of Vladimir Salnikov's life story. It became the motivational key to Sadovyi's drive for success.
In 1989 at the World Cup in Rostok, GDR, the small thin Sadovyi imagined himself as Arnold Schwarzenegger to swim against the big East German swimmers. Spectators giggled when they compared "skeleton-in-skin" Sadovyi to the hunk Yve Dassler. But he won the 400m freestyle and the giggling stopped. When he swam the 800m freestyle, he stopped at the 750m mark thinking the race over. After everyone else turned and kept swimming, he pushed off the wall and caught up to a spectacular second place finish. At the 1990 European Championships, he set a Junior Record in the 400m free. He competed in the 1991 last Sports Festival of the USSR and the 1991 European Championships in Greece winning the 400m free and 4 x 200m relay.
In early 1992, an operation to remove stones from his body almost kept him out of the Barcelona Olympics. But his perseverance qualified him for the team and won 3 gold medals at the Games 200m freestyle, 400m freestyle and the 4 x 200 freestyle relay. Upon his return home from Barcelona, he was greeted by President Boris Yeltsin and IOC President Juan Antonio Samaranch. He was awarded Russia's Athlete of the Year, a special prize from the Olympic Committee and a gold watch from the President.
The Barcelona press called him "a water king" and "golden boy of Russia", but he remained open-hearted with a shy but disciplined demeanor. Following the 1993 European Championships in England where Evgeni won gold medals on two relay teams and a silver in the 200m freestyle, disappointment began to set in and he decided to take a rest. By September of 1996, he decided to withdraw from training and put his efforts into assisting his coach Victor Avdienko, now Head Coach of the Russian Swimming Team at Swimming Club Volga.