Happy Birthday ERWIN SIESTAS – Honor Pioneer Swimmer !!!!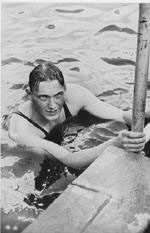 ---
ERWIN SIETAS (GER)
1992 Honor Pioneer Swimmer
FOR THE RECORD: OLYMPIC GAMES: 1936 silver (200m breaststroke); EUROPEAN CHAMPIONSHIPS: 1934 gold (200m breaststroke); WORLD RECORD: 1 (200m breaststroke).
In an Olympic era that was dominated by Japanese breaststrokers, Erwin Sietas of Germany emerged as the greatest European breaststroker of his time.  Following in the footsteps of Hall of Famer and fellow countryman Eric Rademacher, Sietas was Germany's breaststroke champion from 1928 through 1936. Representing Germany in his first Olympics in 1928, Sietas placed fifth in the 200m breaststroke.  By 1932 at the Games of Los Angeles, Sietas had moved up to a fourth place finish behind gold and silver medalist Yoshi Tsuruta and Reizo Koike of Japan and bronze medalist Teofilo Yldefonzo of the Philippines.  In his final Olympic competition at the 1936 Berlin Olympics, Sietas came within four tenths of a second of gold medal winner, Tetsuo Hamuro of Japan to take the silver medal.
Sietas medaled in three European Championships in the 200 meter breaststroke, bronze in 1931, gold in 1934, and silver in 1938.  He broke Frenchman Jacques Cartonnet's two-year world record in 1935 in the 200m breaststroke with a time of 2 minutes 42.4 seconds.  He was the only European breaststroker to medal at an Olympics between 1928 and 1952, a 24-year period. 
Erwin Sietas was a tall, muscular breaststroker, unlike the short, stocky competitors of his time. But his strong desire and commitment to the sport kept him as one of the world's great swimmers for the ten-year period from 1928 to 1938.
Erwin was born today, July 24, in the year 1910 and passed away just shy of the age of 79, on July 20, in 1989 in Hamburg, Germany