Happy Birthday DOROTHY POYNTON !!!!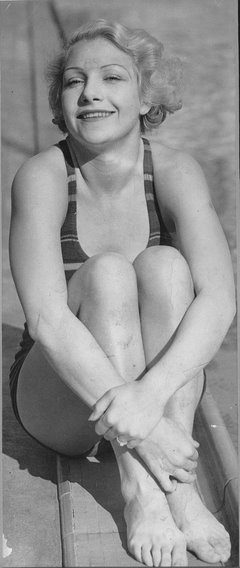 ---
DOROTHY POYNTON (USA)
1968 Honor Diver
FOR THE RECORD: OLYMPIC GAMES: 1928 silver (springboard); 1932 gold (platform); 1936 gold (platform), bronze (springboard).
Dorothy Poynton, 5′ 1 1/2″, 112 lbs., still looks good in those TV commercials, especially when you remember that she placed third in the springboard diving in the 1928 Amsterdam Olympics — same size and weight as she is today. She was 12 years old at the time. 116 medals and at least one of every U.S. diving title later, she won another Olympic bronze in the 1936 springboard diving final in Berlin. In between, Dorothy Poynton became the first woman to win the 10 meter (33 ft.) tower diving gold medal in two successive Olympiads, 1932 (Los Angeles) and 1936 (Berlin).
Dorothy Poynton joins Al White, Betty Becker Pinkston, Pat McCormick, Pete Desjardins and Sammy Lee as Hall of Fame Olympic double gold medal winners. She is the only one of these to have won medals in 3 Olympics. She is a product of the California dynasty that dominated Olympic diving for more than 30 years. Beginning with Hall of Famer Clarence Pinkston, the group includes Georgia Coleman, Marjorie Gestring, Mickey Riley, Dutch Smith, Paula Jean Meyers, Juno Irwin, Vickie Draves, Bob Webster, the aforementioned White, McCormick, Desjardins and Lee — and many others including 1968 Olympic springboard champion Sue Gossick.
Later in her life, Dorothy Poynton taught swimming and diving at her own "Dorothy Poynton Aquatic Club" in Los Angeles where she won her first Olympic gold medal.
Dorothy dies in May of 1995.