Happy Birthday Don Schollander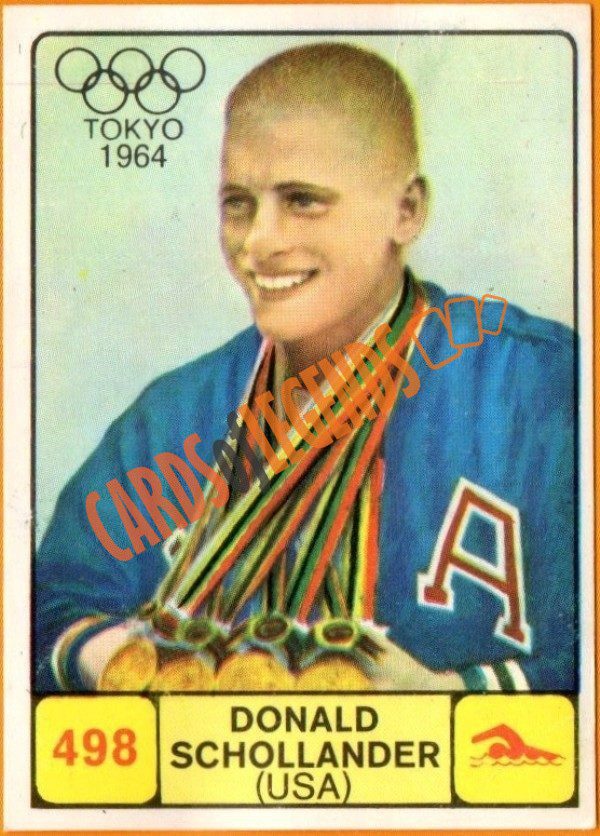 ---
DON SCHOLLANDER (USA) 1965 Honor Swimmer
FOR THE RECORD: OLYMPIC GAMES: 1964 gold (100m, 400m freestyle; 4x100m, 4x200m freestyle relay); 1968 gold (4x200m freestyle relay), silver (200m freestyle); First swimmer in history to win 4 gold medals at one Olympics; WORLD RECORDS: 200yd, 200m freestyle; U.S. NATIONAL RECORDS: freestyle; World Athlete of the Year, 1964.
Nineteen year old Don Schollander is the world's most honored active swimmer. No swimmer in any year has received the honor that came to Schollander in 1964. His selection as top athlete at the 1964 Olympics, plus his award as U. S. and World Athlete of the Year are proof that swimming has come of age and is long overdue on having its own Hall of Fame.
Don received 138 first-place votes and 459 points compared to 14 firsts and 134 points for runner-up Johnny Unitas. No swimmer had previously won the pool in its 34 year history and no athlete in any sport has won it by such an overwhelming margin.
Justification for Schollander's overwhelming A.P. vote and for his selection to the first group honored in the new Swimming Hall of Fame is his record of 4 gold medals, 4 Olympic and 3 world records in his four Olympic freestyle swimming events. No other swimmer has ever done so well in the Olympic Games.
Don was the first man in the world to break 2 minutes for the 200 meter freestyle, on July 7, 1963; but his most amazing performance was his 1:41.7 for 200 yards last April. Try to imagine a man with such great talent that he can race and beat a four man relay team, not just any four man relay, but a world record relay team. This is what Don Schollander did at Yale, give or take 50 years. His 1:41.7, 200 yd. freestyle time at the 1965 Indoor U. S. Nationals in April was 7/10 seconds faster than the world record set by Yale's 200 yd. freestyle relay team in 1917. It is a dramatic illustration of the improvement in swimming times, training and techniques in less than 50 years.
In preparing for the 1964 Olympic Trials and Games, Don's coach, George Haines, (he has had several great coaches in his young career), felt he could win any freestyle event for which he trained. The middle distances are his forte but Haines felt it would be difficult and dangerous, if not foolhardy , to prime Don for both the 100 meter sprint and 1500 meter distance races at the same time. The coach, showing complete confidence in his swimmer plus a flare for the dramatic, and a rise to the challenge, picked the 100. Although Don is not a sprinter, he has an almost perfect stroke and the 100 meter distance was long enough for this good stroking to pay off in a come-from-behind victory. Certainly it proved a point for good swimming. Don owned the 400 meter race, perhaps his best distance, and swam on two of the U.S.A.'s three gold medal world record breaking relays, something he might not have been able to do had he primed for the 1500. All signs were "go" and all gambles paid off. No swimmer before Schollander has ever won four gold medals in one Olympics, yet Don might have won five had he been on still another relay. On the other hand, 1964 was the first Olympics that offered three relays and only the second Olympics offering more than one men's relay. Immortality is still a combination of timing and talent.
There are now more races for more and faster swimmers in the booming sport of swimming than ever before. This, just as Schollander's early selection for the Swimming Hall of Fame, is a sign of the times in this fastest-growing Olympic sport.