Happy Birthday Djurdjica Bjedov!!!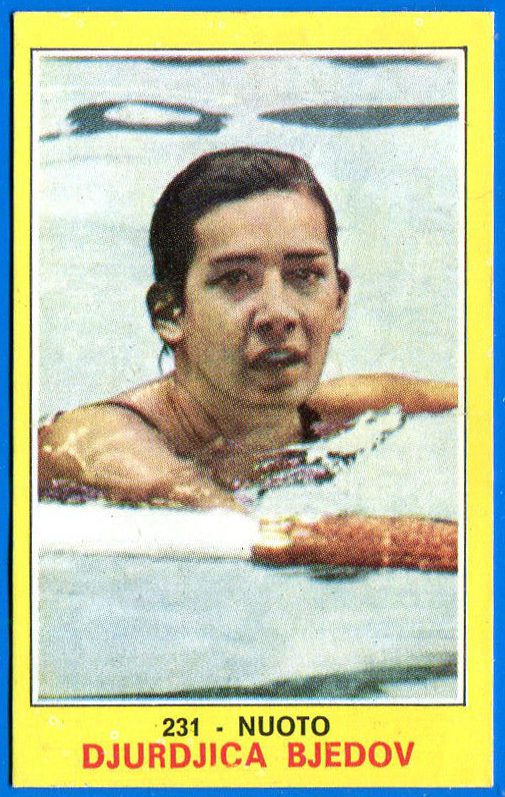 ---
DJURDJICA BJEDOV (YUG) 1987 Honor Swimmer
FOR THE RECORD: OLYMPIC GAMES: 1968 gold (100m breaststroke), silver (200m breaststroke); OLYMPIC RECORD: (100m breaststroke); Many time Yugoslavian National Champion and record holder; First Yugoslavian swimmer to win an Olympic gold medal.
As the only swimming gold medalist Yugoslavia ever had, Djurdjica Bjedov may just be the all-time Cinderella of the modern Olympics. She is certainly a wonderful story on why it pays to be ready because no one really knows when their big chance might come. Swimming's miracle wonder story went something like this:
The best Bjedov had ever done was third in her heat at the European Championships two years before her 1968 Olympics in Mexico City. The Yugoslavian Swimming Federation decided they had to take her to the Olympics because they had no other breaststroker for their medley relay (which was ultimately disqualified in the preliminaries because she jumped on her relay start). Bjedov qualified fifth in the 100 meter breaststroke in a final in which the odds were on favorite, world record holder Catie Ball of the United States who placed a sub par fifth because of a serious intestinal disorder. The formidable field that remained included Galina Prosumenschikova, the only European to have won a gold medal fours earlier at Tokyo.
Everyone was worried about the altitude affecting their performance, something Bjedov thought might improve her chances. She was fit, and she was ready, and she had made the finals. To everyone's surprise, the unknown from Split, Yugoslavia, came through to win in Olympic record time. A few days later she almost did it again in the 200. Qualifying seventh, she swam in an outside lane, topped her best previous time by three seconds and again beat the Soviet Prosumenschikova, but this time she was the only Yugoslavian swimmer to win a silver medal as American Sharon Wichman came on to win the event.