Happy Birthday DEBBIE MEYER !!!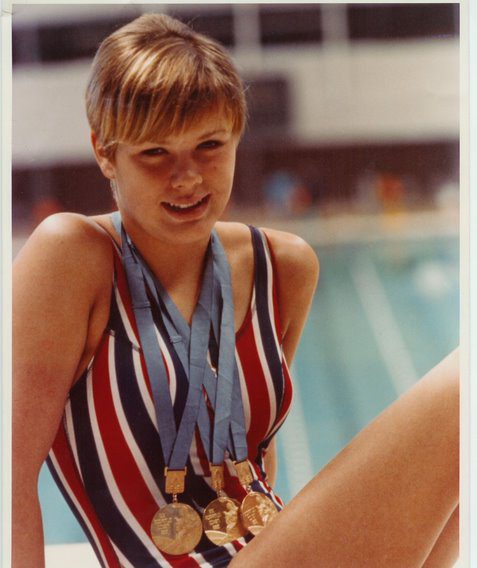 ---
DEBBIE MEYER  (USA)
1977 Honor Swimmer
FOR THE RECORD:  OLYMPIC GAMES: 1968 gold (200m, 400m, 800m freestyle); WORLD RECORDS: 15; PAN AMERICAN GAMES: 1967 (2 gold);  NATIONAL AAU CHAMPIONSHIPS: 19; AMERICAN RECORDS: 27; "World Swimmer of the Year": 1967, 1968, 1969; 1968 Sullivan Award winner.
Debbie was the first to win three individual gold medals at one Olympics (1968 Mexico).  She won two Pan-American golds in 1967.  She was the first woman to swim the 1500m under 18 minutes and the first to take the 400m under 4:30, the 500 yd under 5 minutes and the 1650 yd under 17 minutes.  Meyer held 24 American Records. 
In 1967 she was chosen Tass News Agency's "Woman Athlete of the Year".  Between the ages of 14 and 18, Debbie was the world's greatest female swimmer.  In the seven years prior to the 1968 Olympics (she began at the Camden Y and finished as belle cow of the Arden Hills Swim Club) she swam 30,000 miles in seven years to set training standards no girl before her had achieved; and yet she remained a happy all-American girl in appearance as in performance setting standards.  Just for comparison and a little argument in the battle of the sexes, Debbie's 4:24.5 in the 400m would have beaten Murray Rose in the 1956 Olympics and her 17:19.9 in the 1500m would have been 39 seconds faster than his 1500m time.