Happy Birthday Christine "Kiki" Caron!!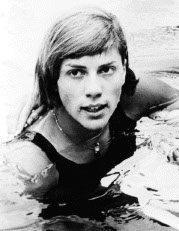 ---
Christine "Kiki" Caron (FRA)
Honor Swimmer (1998)
FOR THE RECORD: 1964 OLYMPIC GAMES: silver (l00m backstroke); ONE WORLD RECORD: l00m backstroke; 1966 EUROPEAN CHAMPIONSHIPS: gold (l00m backstroke); 11 EUROPEAN RECORDS: 100m, 200m backstroke; 14 FRENCH NATIONAL CHAMPIONSHIPS: l00m & 200m backstroke, l00m & 200m butterfly; 1965 U.S. NATIONAL CHAMPIONSHIPS: gold (l00m backstroke); AUSTRALIAN NATIONAL CHAMPIONSHIPS: gold (l00m backstroke); MEXICAN NATIONAL CHAMPIONSHIPS: gold (l00m backstroke); ONE FRENCH NATIONAL RECORD: l00m butterfly.
In 1948, following World War II, sport was reclaiming its importance in the world and the swimming world was awakening to a surge in international female participation. In Europe, Hall of Famer's Jean Boiteaux and Alex Jany were France's star swimmers. Born in Paris during this time of resurgence in the sport, little did Christine "Kiki" Caron know that she would grow to become the best backstroke swimmer in the world and compete in the 1964 Tokyo Olympic Games, just 4 Olympiads later.
In fact, over a career in which Caron won 14 French National Championships within a 7 year period, setting both the backstroke and butterfly records of her country in both 100m and 200m distances, Kiki became one of France's most famous athletes. With film star beauty, vivaciousness and great swimming ability, she was probably the most photographed of all French athletes. At the 1964 Tokyo Olympics, she was the glamour girl, the child prodigy and as her coach Suzanne Berlioux would say "a little temperamental."
On June 14, 1964 in Paris, Kiki had broken the world 100m backstroke record held by USA's Dona deVarona. The stage was set for an exciting 100m race between record holders Cathy Ferguson and Ginny Duenkel of the USA and Satoko Tanaka of Japan, all competing at the Tokyo Olympics in October of 1964. In one of the closest races in Olympic history Ferguson, Caron and Duenkel all touched one-two-three, within a blink of the eye in the 50m Olympic Pool. It was the first official use of the electronic timing touch pads to determine race results, in Olympic competition and Kiki finished second for the silver medal behind Ferguson. All of these swimmers were within three-tenths of a second of each other. There was no 200m backstroke for women.
But Kiki didn't stop there. She competed in the U.S. National Championships in 1965 beating Olympic Champion Ferguson. She also won the 100m backstroke National Championships of Australia and Mexico. She was the 1966 European Champion gold medalist in the 100m backstroke and set the 100m and 200m backstroke European records 11 times. Kiki competed in the 1968 Mexico City Olympics and was the first European woman to carry her country's flag in the opening ceremony of an Olympic Games.
Today, Kiki is in the swimming pool public relations business.