Happy Birthday Chi Lieh Yung!!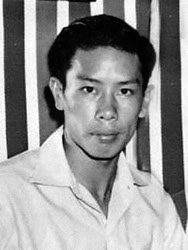 ---
Chi Lieh Yung (CHN)
Honor Swimmer (2013)
His talent for swimming was recognized while playing at a beach in Hong Kong, by coaches of the Lai Tsun Swimming Union of the Chinese Y.M.C.A. Under the guidance of his coaches, Chan and Huang, he was shown how frogs leapt great distances by releasing explosive power in their legs and learned to swim the breaststroke. Taking this cue from nature and with the dream of becoming the "King of the Frogs," Chi became the most celebrated swimmer in Hong Kong. Having the option to represent Hong Kong, Formosa or the New China in international competition, Chi chose the latter and crossed the border on April 8, 1954 to join the training camp in Guangdong.
Coached by a collaborative of Hungarian, Russian and Chinese coaches, and from his own observations and studies, Chi developed a unique style of swimming that came to be known as "the high sailing position," that utilized his powerful kick. During the national swimming championships in 1955, his efforts paid off as he won first place in the men's 100 and 200 meter breaststroke.
In October of 1956, Chi Lieh Yung was one of 12 swimmers, 11 male and 1 female, selected to represent the People's Republic at the 16th Olympic Games in Melbourne, Australia. The only female swimmer, Dai Lihua, later became Chi's wife. Unfortunately, politics intervened and China did not send its team.
The following year, on May 1st, a swimming competition was organized to commemorate the International Labor Day. Chi was in his prime, and all the best breaststrokers were entered. He broke the world record in the men's 100 meter breaststroke with a time of 1:11.6. This was the first world record by a Chinese swimmer recognized by FINA. His accomplishment was an immense source of pride and an inspiration for the new nation. Although Chi never got the chance to compete in the Olympics, he did realize his childhood dream of becoming "The King of Frogs" and he will forever be remembered as China's first world record setter in swimming.
After retiring, he and his wife devoted themselves to coaching the national swimming team until 1976 when they returned to Hong Kong, where Chi started his own successful business. His interest has always been swimming and music, even now he spends more than one hour a day in the pool.