Happy Birthday Cathy Carr !!!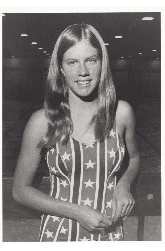 ---
CATHY CARR (USA) 1988 Honor Swimmer
FOR THE RECORD: OLYMPIC GAMES: 1972 gold (100m breaststroke; relay); WORLD RECORDS: 2 (100m breaststroke; relay); AAU NATIONAL CHAMPIONSHIPS: 2 (100m breaststroke); AMERICAN RECORDS: 4 (100m, 100yd breaststroke; 2 relays); 1974 Hall of Fame Outstanding College Athletes of America.
Cathy Carr is the first Olympic gold medal swimmer from New Mexico. Her Olympic victories at the 1972 Munich Games were a surprise to everyone except perhaps for Cathy herself. Just one year after placing fourth (100 & 200 breast) in the U.S. Outdoor Nationals, Carr won the U.S. Olympic Trials in the 100 meter breaststroke but was not taken seriously by the U.S. coaches as a threat to medal against the 60 competitors from 22 countries around the world.
The Europeans were always favored, especially Swimming Hall of Famer Galina Prozumenshikova, the first Russian to win an Olympic swimming gold in Tokyo and a bronze and silver winner in Mexico. But in the 1972 Olympics, even though Prozumenshikova was definitely favored, Cathy Carr beat her and set a new Olympic record to boot with a time of 1:15 in the prelims. In the finals two days later, Cathy took off in the center (lane 4) and led all the way, beating Prozumenshikova by two body lengths. It was as decisive as it was surprising. She won in world record time 1:13.58 beating her own Olympic record by more than a second and the world record of Hall of Famer Catie Ball by half a second. As the fastest American, this also qualified Cathy for the medley relay in which she won another gold in world and Olympic record time.
In addition to the two gold medals and the unofficial title of the USA's most pleasant surprise winner, Cathy Carr showed that previous press clippings don't win the Olympics. Cathy proved in the year after the Olympics that her surprise showing at Munich was no fluke. She retired to become a wife, mother and elementary school teacher. Coaching credits for swimmer Cathy Carr are owed to: Jimmy Stevens, Marc Lautman, John Mechem, coach-to-be Rick Klatt and Mike Troy.