Happy Birthday Candy Costie !!!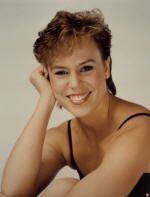 ---
CANDY COSTIE (USA) 1995 Honor Synchronized Swimmer
FOR THE RECORD: 1984 OLYMPIC GAMES: gold (duet); 1982 WORLD CHAMPIONSHIPS: silver (duet); 1983 PAN AMERICAN GAMES: gold (duet), silver (team); 4 US NATIONAL CHAMPIONSHIPS: (duet); 1 NCAA NATIONAL CHAMPIONSHIP.
Candy Costie is an attractive, highly-spirited, athlete with an infectious smile who is artistic by nature. Fortunately, at the age of nine, she was able to find the perfect sport to devote all of her God-given attributes–synchronized swimming.
Candy is best remembered for being part of the dynamic pair that she and her partner, Tracy Ruiz, were throughout their year of swimming together. Candy and Tracy first teamed up when they were ten years old. In the crystal blueness of the water, their artistic movements captivated the judges and their audiences again and again. During their ten year partnership, only twice did she and Ruiz ever finish lower than first place in the duet event, taking silver medals in the 1980 US Nationals and 1982 World Championships.
Candy and Tracy are one of the most decorated synchronized duets to date. They have won four US National Championships, one NCAA National Championship, and a 1983 Pan American Games gold. The culmination of their career happened in the summer of 1984 –when, for the first time in history, the duet event was presented at the Olympic Games. Candy and Tracy approached the crowd and swam with such beauty, spirit and grace that no one could deny the team their right to the first Olympic Games gold medal in synchronized swimming.
Shortly after her historic Olympic experience, Candy retired. Though her athletic career has past, her name lives on through the many products she has endorsed, her appearances as a sports commentator, and her video, "The Water Workout." Candy is remembered for helping to raise synchronized swimming — a sport which requires strength, co-ordination, and artistic composition, to new levels of popularity.
Eleven years since her retirement, Candy Continues to find new goals to reach. Her strokes no longer land in the water but rather on canvas, exploring her artistic talent at her art studio, the Desert Fish, in Arizona. Candy is the mother of two children and recently expanded her family to include two more youngsters when she married Fred Merrill, Jr.