Happy Birthday Brendan Hansen!!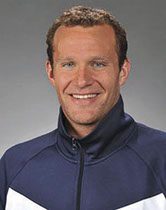 ---
Brendan Hansen (USA)
Honor Swimmer (2021)
FOR THE RECORD: 2004 OLYMPIC GAMES: gold (4×100m medley), silver (100m breaststroke), bronze (200m breaststroke); 2008 OLYMPIC GAMES: gold (4×100m medley), 2012 OLYMPIC GAMES: gold (4×100m medley), bronze (100m breaststroke); 2001 WORLD CHAMPIONSHIPS (LC): gold (200m breaststroke); 2003 WORLD CHAMPIONSHIPS (LC): gold (4×100m medley), silver (100m breaststroke), bronze (200m breaststroke); 2005 WORLD CHAMPIONSHIPS (LC): gold (100m breaststroke, 200m breaststroke, 4×100 m medley); 2007 WORLD CHAMPIONSHIPS (LC): gold (100m breaststroke), silver (50m breaststroke); 2004 World Championships (SC): 4 gold (50m breaststroke, 100m breaststroke, 200m breaststroke, 4×100m medley)
How many athletes can boast that they were unbeaten in their individual events throughout all four years of college? The Texas Longhorn breaststroker named Brendan Hansen, from Havertown, Pennsylvania, can claim this feat. Hansen entered the University of Texas at Austin, in 2000 to swim for ISHOF Honor Coach, Eddie Reese. By the time he graduated in 2004, he had never lost a breaststroke event during his entire NCAA collegiate career. He was a 16-time All-American and won 13 NCAA Championships, eight individual NCAA titles and five relay crowns. Hansen became the only person in history to win every breaststroke event all four years at the NCAA Championships.
Brendan swam for several teams growing up in the Philadelphia area. His first coach was John McFadden at Foxcatcher Farms, who Brendan credits for his approach to practice and work ethic. Hansen had a unique style of breaststroke, which incorporated a kick that is typically much narrower than most of his competitors.
By the time he reached the University of Texas, Hansen was already a member of the USA National team. In 2000, Hansen just missed making the Olympic team twice in the both the 100 and 200m breaststroke, placing third in both events at Trials.
His first big international win was at the 2001 World Championships in Fukuoka, Japan, where he took gold in the 200m breaststroke and set a championship record. Two years later at the 2003 World Championships in Barcelona, Hansen broke his first world record as part of the men's 4 x 100 medley relay. In his individual events, he took silver in the 100, finishing just behind Japan's Kosuke Kitajima along with taking a bronze in the 200. Then at the 2004 Olympic Trials in Long Beach, Hansen was unstoppable. He won both the 100 and 200m breaststroke, breaking the world record in each event, and made his first Olympic team.
Hansen went into the Athens Olympics completely prepared, but recalls his races being "sloppy." Sloppy or not, he won his first Olympic gold medal on the USA's 400m medley relay. Prior to the relay he won a silver in the 100m breaststroke and a bronze in the 200 breast. Hansen recalls the sheer pride he got when he put on that USA Olympic uniform for the first time. Working so hard to get there and battling back from his third-place finishes in 2000, made it all worthwhile.
Just two months following the Athens games, Hansen was back on US soil and in Indianapolis for the Short Course World Championships. He walked away with four gold medals in the 50, 100 and 200-meter breaststroke and the 400-medley relay. He was part of the world record medley relay, joining Hall of Famers Aaron Peirsol, Ian Crocker and Jason Lezak.
As a member of the 2006 USA National Team, Hansen broke the world record three times in a span of just 26 days in the breaststroke events. His first came at the 2006 US National Championships, where he broke the world record in both the 100m breaststroke (59.13) and 200m breaststroke (2:08.74). Days later, he traveled to Victoria, British Columbia, to compete at the Pan Pacific Championships. There, Hansen beat his own world record again in the 200m breaststroke, in a time of 2:08.50.
By most accounts, 2008 would prove to be another successful Olympic Games for Hansen. He had been elected Captain of the USA team and was part of the gold medal winning relay which allowed Michael Phelps to walk away with his historic eighth gold medal. It was a different story in the 100-meter breaststroke, however, as he placed fourth in the event. At the completion of the Games, he decided he was done with swimming.
Hansen retired after the 2008 games but returned in 2011 and qualified for his third Olympics a year later. At the 2012 London Olympics, he won the bronze medal in the 100m breaststroke, after gaining the last spot in finals and swimming in lane 8. He fought "tooth and nail" as he puts it, to get into the finals of that 100m breaststroke event. To this day, Brendan says, "that is still my favorite medal I have ever won." He finished up the meet and his career by winning his third Olympic gold medal in the 400m medley relay.
Hansen finished his career with a total of three gold, one silver and two Olympic bronze medals. He is a ten-time world champion, breaking 11 world records in his career.