Happy Birthday Bob Windle, 1990 Honor Swimmer from Australia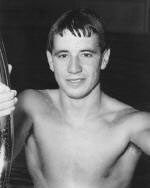 ---
ROBERT WINDLE (AUS) 1990 Honor Swimmer
FOR THE RECORD: OLYMPIC GAMES: 1964 gold (1500m freestyle), bronze (relay); 1968 silver (relay), bronze (relay); WORLD RECORDS: 5 (200m, 220yd freestyle; relays); COMMONWEALTH GAMES: 1962 gold (relay), silver (1500m freestyle), bronze (400m freestyle); 1966 gold (400m freestyle; relays); AUSTRALIAN CHAMPIONSHIPS: 11 (200m, 400m, 800m, 1500m freestyle; relays).
Bob Windle is one of those rare beings that made three Olympic teams. He won Tokyo in 1964, hit Rome on his way up in 1960 and retired for good after a Mexico City comeback in 1968. In addition to the gold for winning the 1500 at Tokyo where he beat, among others, the favored American superstar world record holder Roy Saari, Windle won a bronze in the 4×100 freestyle relay, followed with a bronze and a silver in Mexico, four years later. Oddly enough, Windle won more Olympic medals (2) swimming relay 100's than in any other distance, yet the 100 was the only freestyle distance he failed to win (by a touch out) in the Australian Championships during his long career. Between Tokyo and Mexico, Windle went to Indiana to swim for Doc Counsilman. He helped his Indiana team win the NCAA Championship by anchoring the victorious 800 yard freestyle relay. Windle returned to his Aussie Coach, Don Talbot however, to assist the Commonwealth Games team in Jamaica set a world record at 440 yards.
He won a total of 4 gold medals, a silver and a bronze in his two Commonwealth Games at Perth and Kingston. Bob Windle retired in 1967 but agreed to swim the shorter distances at Mexico in 1968 when Don Talbot talked him into a comeback. He won 2 medals for Australia in the relays. The versatile Windle is the only Australian to swim Olympic races from the 100 meter to the 1500 meter.