Happy Birthday Alison Streeter!!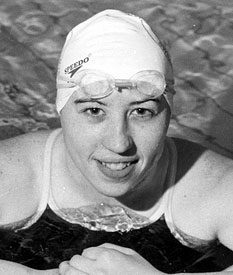 ---
Alison Streeter (GBR)
Honor Open Water Swimmer (2006)
FOR THE RECORD: "QUEEN OF THE ENGLISH CHANNEL." 43 CROSSINGS OF THE ENGLISH CHANNEL; THREE DOUBLE AND ONE TRIPLE CROSSING OF THE CHANNEL (first time for a woman, 70 miles in 34 hours); YOUNGEST WOMAN AND FIRST BRITISH WOMAN TO SWIM A DOUBLE CROSSING, (49 miles in 21hours 16 minutes) ENGLAND-FRANCE-ENGLAND; COMPETITOR IN 18 INTERNATIONAL RACES. ALSO CATALINA CHANNEL, MANHATTAN ISLAND, 4 PIERS, AROUND JERSEY ISLAND (43 miles), SCOTLAND TO IRELAND (20 miles), THE NORTH CHANNEL (20 miles) and CAPRI-NAPLES (22 miles). FIRST WOMAN TO SWIM THE IRISH SEA. THREE CHANNELS IN FIVE WEEKS LINKING IRELAND-SCOTLAND-ENGLAND-WALES-ENGLAND AND FRANCE.
The King or Queen of the English Channel is the one who holds the most number of crossings at any given time. Hall of Famer Cindy Nicholas had been the "Queen of the Channel" with 19 crossings, but in 1992 Alison Streeter surpassed that number and has gone on to complete 43 crossings by 2005. She may be the English Channel Queen for a long time.
For nearly a quarter of a century, Alison has been swimming the Channel. In 1983, she became the youngest woman and first British woman to swim a double crossing (49 miles in 21 hours 16 minutes) (England-France-England) and repeated it two more times. In 1990, she completed a three-way crossing, the first time for a woman, 70 miles in 34 hours 40 minutes. She is the first to cross the Channel seven times in one year. Along with her English Channel swims, she also has completed the Catalina Channel, Manhattan Island, 4 Piers, around Jersey Island (43 miles), Scotland to Ireland (20 miles), Ireland to Scotland, the North Channel (20 miles) and Capri-Naples (22 miles). She is the first woman to swim the Irish Sea. Alison currently writes for Swimming Times. She was awarded the MBE by the Queen. Most of her swims are tied to fundraising efforts for various charities and to-date she has raised over 120,000 pounds sterling.