Happy BIrthday 2005 Honor Swimmer David Berkoff !!!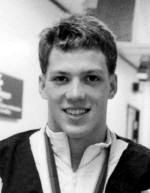 ---
DAVID BERKOFF (USA) 2005 Honor Swimmer
FOR THE RECORD: 1988 OLYMPIC GAMES: gold (4x100m medley relay), silver (100m backstroke); 1992 OLYMPIC GAMES: gold (4x100m medley relay-prelims), bronze (100m backstroke); FOUR WORLD RECORDS: 3-100m backstroke, 1-4x100m medley relay; 1987 PAN AMERICAN GAMES: silver (100m backstroke); THREE U.S.S. NATIONAL CHAMPIONSHIPS: 100y backstroke (1988, 1991), 100m backstroke (1988); TWO NCAA NATIONAL CHAMPIONSHIPS: 100m backstroke (1987, 1989).
At the 1912 Olympics, USA's gold medalist Harry Hebner began to recover with his arms out of the water at the same time in the backstroke. In 1920 at Antwerp, Warren Kealoha (USA) was using the alternate arm recovery in his Olympic backstroke swimming. In 1936, Adolph Kiefer began using a straight arm recovery. Thirty years later swimmers began using a bent arm pull under water. All these changes revolutionized backstroke swimming.
Olympian Dave Berkoff was no exception to these great swimmers, for as a swimmer himself, he too, revolutionized backstroke swimming, with his underwater start-and-turn, a move which stirred debate amongst athletes and officials and caused FINA to make an adaptation to the rules governing the amount of the time a swimmer can remain under water after a start-and-turn. Dave's "Berkoff Blastoff", as his under water submarine dolphin kick became known, earned him Olympic medals and World Records and caused every backstroke swimmer following him to learn the kick in order to win and set records. His start-and-turn is one of the sports top innovations that has lead to faster times.
Born on November 30, 1966, in Philadelphia, Pennsylvania, Dave started swimming because he was not only overweight, he was fat. At one year old, he weighed 30 pounds. At 17 months old, he could speak in complete sentences yet was unable to walk. He eventually shed pounds as he progressed in age group swimming, competing for ten different clubs in the Middle Atlantic Region.
Although he was never a standout swimmer until he entered college, he competed for and learned from the best. From Westchester to Germantown, and coaches Jack Simon to Dick Schoulberg, Berkoff was persistent with his swimming. He attended the William Penn Charter School and in 1985 was accepted at Harvard University in Cambridge, Massachusetts where he enrolled and trained under the direction of Coach Joe Bernal. It was during his college years that he began playing around with a start and push off the wall with the hands outstretched overhead and the legs and feet kicking in a dolphin style much like the butterfly. Dave would stay 35 to 40 meters under water on each push off the wall and come up ahead of all the other backstroke swimmers in the race. After placing third in the 100y backstroke at the 1986 NCAA National Championships in Indianapolis, he refined the push off more to his advantage. The next year at the 1987 NCAA Nationals, held at the University of Texas, he won the 100y backstroke race in a time of 48.20 seconds, breaking the NCAA record. He became Harvard's first NCAA National swimming champion since Bruce Hunter won the 50y freestyle in 1960, twenty-six years earlier. The same year, he won silver medals in the 100m backstroke at both the FISU Games and the Pan American Games.
On August 13, 1988 at the U.S. Olympic Trials, Dave broke Igor Poliansky's (URS) 100m backstroke world record with a 54.95 in the preliminary heat and again in the finals with a 54.91. He broke the record a third time a month and a half later at the Seoul Olympics with a 54.51 in the preliminary heats. Berkoff held the world record for three years before it was broken by USA's Jeff Rouse. Dave was the first swimmer to go under 55 seconds for the distance.
It was at the 1988 Seoul Olympics that the world saw for the first time at an international competition, the power of the "Berkoff Blastoff" in backstroke swimming. In the 100m race final, Dave was narrowly touched out by Japan's David Suzuki, who also used a form of the kick. Because the kick created such a stir at the Games, FINA officials voted immediately after the Games to limit the under water portion of the race coming off the wall, by reducing the under water part to ten meters. Every backstroke world record holder since has used the "dolphin kick" as part of their start-and-turn. Even butterfly and freestyle swimmers have adopted it in their start-and-turns.
In his final event of the Seoul Games, the 4x100m medley relay, Dave, swimming backstroke, and his teammates Richard Schroeder (breast), Matt Biondi (fly) and Chris Jacobs (free) won the gold medal in a world record time of 3:36.93.
After Seoul, Dave returned home to Harvard competing in and winning another NCAA National Championship 100y backstroke title again in record time. After graduation he went into semi-retirement but then in 1991, back in competition, he placed in the consolation finals of the 100m backstroke and 200m I.M. at the Pan Pacific Championships. He won the 100m backstroke at the U.S.S. National Championship, qualified for the 1992 Barcelona Olympic Team and came home from Spain with a 100m medley relay gold medal for swimming in the preliminary heat.
All totaled in Olympic competition, Berkoff had won two gold medals, one silver and one bronze medal. He set three backstroke world records, was on a world-record setting medley relay team and is best known today as the man who revolutionized the stroke. Today he is a lawyer living, working and coaching in Missoula, Montana. He and fellow Olympian Matt Biondi are co-founders of the Delphys Foundation for Marine Study, specifically the study of dolphins and whales in their natural habitat.