Happy Belated Birthday to the Great Hobie Billingsley, who turned 94 on December 2nd!!!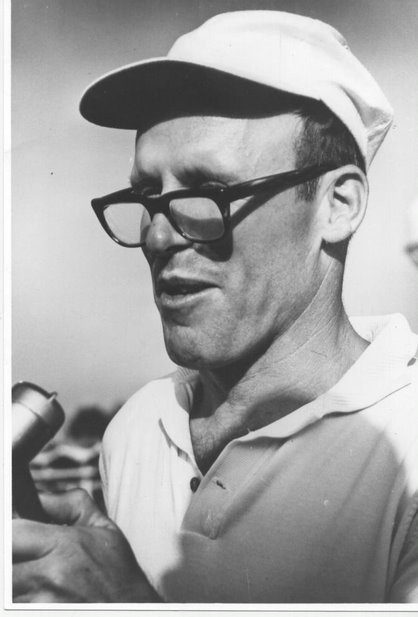 ---
HOBIE BILLINGSLEY (USA) 1983 Honor Coach/Diver
FOR THE RECORD: 1968 U.S. Olympic Women's Diving Coach; 1972 U.S. Olympic Men's Diving Coach; 1976 Austrian Olympic Diving Coach; 1980 Austrian and Danish Olympic Diving Coach; 1959 U.S. Pan American Men's Diving Coach; 1945 NCAA Champion (1m, 3m springboard); As Indiana University's diving coach his divers captured 16 NCAA, 27 Big Ten and 64 National AAU diving titles; They also won 4 Pan American, 3 World and 2 Olympic gold medals along with 80 National titles between 1959 and 1982; 1973 recipient of the "Mike Malone Award" and 1964 "Fred Cady Award"; founded the American (1971) and the World (1968) Diving Coaches Associations.
Hobie Billingsley was voted the "U.S. Diving Coach of the Year" seven consecutive times between 1964-1970. He was also the first "NCAA Coach of the Year", first presented in 1982. A four-time Olympic Coach representing three different countries, his Olympic success was exceeded only by his national success with his divers. Coaching in the premier diving nation of the world, Billingsley has won more individual diving titles as coach than any other person except his own mentor, the late Mike Peppe of Ohio State.
Hobie won both the low & high NCAA springboard titles as a freshman at Ohio State before entering the Army Air Corps in 1945. With his best friend from college, the late Bruce Harlan, and later with Dick Kimball, he toured 15 summers, establishing himself as an all-time great comedy diver with water shows.
However, it was as a coach, the second diving coach ever hired in college ranks, that Hobie made his greatest mark. Among his Olympians, Rick Gilbert, his first champion and former head coach at Cornell; Cynthia Potter who holds the record for National titles at 28; Jim Henry with 13 National titles; Leslie Bush, holder of every major diving title; and Ken Sitzberger, 11 time National champion.
In the 1968 NCAA Championships, Hobie's divers scored 96 unprecedented points with five divers making the finals on both the 1-meter and 3-meter boards. He is the producer of the prize-winning documentary, "Hobie's Heroes". Hobie's greatest pride is in the fact that there are more diving coaches in the high school and college ranks in the U.S. that have graduated from Indiana University under his tutelage than from any other university.