Happy belated Birthday Bobby Webster (October 25)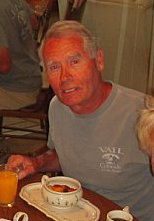 ---
ROBERT WEBSTER (USA) 1970 Honor Diver
FOR THE RECORD: OLYMPIC GAMES: 1960 gold (platform); 1964 gold (platform); PAN AMERICAN GAMES: 1963 gold (platform); 1971 (U.S. Diving Coach); U.S. NATIONAL AAU CHAMPIONSHIPS: 1960 through 1964 (won all tower diving contests); 1962 (1m springboard); BIG TEN CHAMPIONSHIPS: 1960 (3m springboard).
"From California to the New York harbor, from the redwood forests to the Gulfstream waters", double Olympic champion Bob Webster's diving career was coast to coast.  He won his Olympic gold medals in Rome and Tokyo.  He came out of California to college at Michigan and now coaches at Princeton.
Webster is primarily known as a tower diver, yet he was U.S. National AAU champion in 1 meter low board (1962) and Big Ten 3 meter high board champion (1960).  Webster won his first Olympic title (10 meter platform) in Rome just three years after he took his first tower dive in competition.  From that date (1960) until his retirement after winning the 1964 Olympic platform title in Tokyo, Webster never lost a tower diving contest.
He won his first collegiate title diving for Santa Ana Junior College, a school without a pool.  He prepared for the Southern Section Junior College Championships training off a board in Olympic champion Sammy Lee's back yard sand pit. From Santa Ana, Webster went to the University of Michigan where he was coached by Dick Kimball and by the late Bruce Harlan, himself an Olympic champion in 1948.
Following his retirement as a competitive diver, Webster took a Far East tour for the State Department and then began a coaching career at Minnesota and Princeton.  Bob was appointed U.S. Diving Coach for the 1971 Pan American Games in Cali, Colombia.  This trip stands as an honor richly deserved since Webster, in 1963 at Sao Paulo, Brazil, was the first U.S. diver to win 10 meter diving in the history of the Pan American Games.