Gregorio Paltrinieri Punches 7:39.27 Euro-Record Victory As Christiansen & Aubry Make History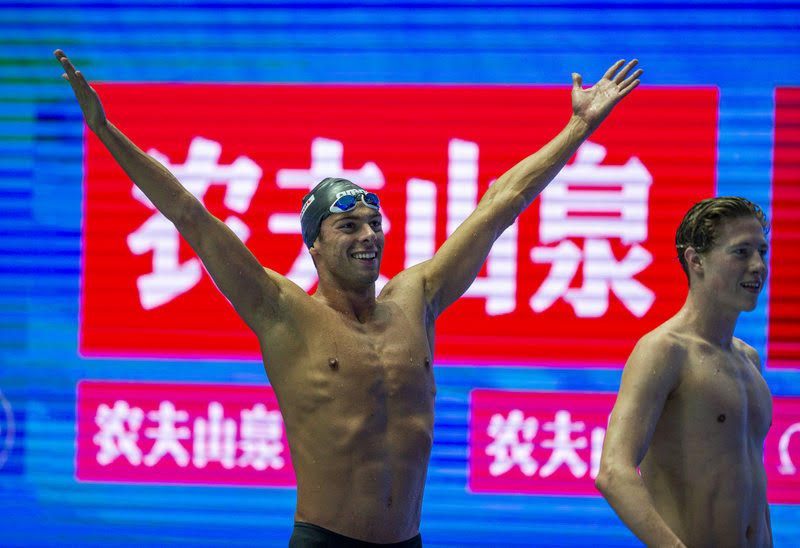 ---
24 July 2019, 04:39am
World Swimming Championships (Gregorio Paltrinieri)
Gwangju
Photo Courtesy: Patrick B. Kraemer
Day 4 Finals (Men's 800m freestyle)
Italy kept the crown but by half-way it was clear that a new name would be added to the list of champions over 16 laps: Gregorio Paltrinieri raced alone and away from a shoal of four others battling for the minor spoils.
In 7:39.27, a time that took the European record below 7:40 for the first time, the Italian claimed the crown after silver in 2015 and bronzes in 2013 and 2017.
All the champions on those occasions were in the race today but out of the medals, Paltrinieri's training partner and defending champion Gabriele Detti fifth, China's Sun Yang (2013, '15) sixth.
History followed the winner onto an all-Europe podium: Henrik Christiansen granted Norway its first 800m medal in World-Championship waters in a national record of 7:41.28, and David Aubry achieved a first-ever medal for France with bronze in 7:42.08.
The European record had stood at 7:40.77 to Detti since he got the edge in a stroke-for-stroke battle with Paltrinieri, on 7:40.81, two years ago in Budapest.
1
PALTRINIERI
Gregorio

ITA

7:39.27
ER
2
CHRISTIANSEN
Henrik

NOR

7:41.28
3
AUBRY
David

FRA

7:42.08
4
MCLOUGHLIN
Jack Alan

AUS

7:42.64
5
DETTI
Gabriele

ITA

7:43.89
6
SUN
Yang

CHN

7:45.01
7
FROLOV
Sergii

UKR

7:47.32
8
ROMANCHUK
Mykhailo

UKR

7:49.32
After taking the bulk of a year away from his coach Stefano Morini to go and travel in Australia, train and take time out with friend and rival in the wash Mack Horton and add a heap of open water swims to his regime "to avoid getting stale on the way to Tokyo 2020", Paltrinieri had been reminded what it felt like not to win at European Championships last year.
Today, after finishing a few strokes shy of the medals in the 10km title race last week, he got back on top of distance freestyle with a vengeance – and was delighted to have done so: "I mean it's a big surprise. After the open water last week, I was feeling really tired. It was difficult to change from the open water to the swimming pool so it's crazy to be here right now at the top of the world. I was silver in Kazan, bronze in Budapest, so just miss the gold."
Asked if defeating Sun Yang meant anything to him, he replied: "It doesn't mean anything to me. Everyone in this competition … I'm against them all. Sun Yang is just like another athlete. I don't want to think about anything while I'm racing like doping or something, I just don't care. I just want to beat them all."
More soon