Former NISCA President Dana Abbott Joins ISHOF's One in a Thousand Campaign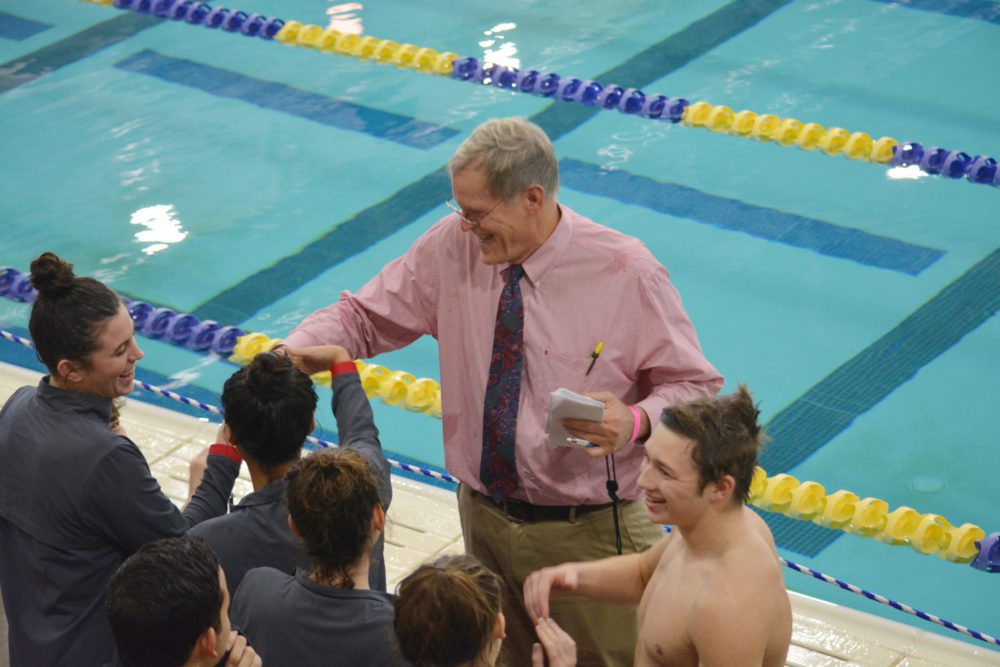 ---
by ANDY ROSS
11 May 2021
Dana Abbott has joined ISHOF's One in a Thousand campaign, designed to help the Hall of Fame prosper during the COVID pandemic.
"I've been involved either as a competitor or a coach since the Hall of Fame opened in 1965. I'm originally from Miami so I used to swim meets and play water polo at the Hall of Fame pool. When I got to college, we would come down for the college coach's swim forum. I've been involved with NISCA for quite a while and we have all of our trophies and awards down there in the museum and it is just a natural thing and easy way, if enough people got involved, to help support the Hall of Fame financially. I'm glad to do it and I'm glad the idea came about in the first place."
Abbott is part-time coaching in the Houston area with Katy Aquatics as he coached at Katy High School for 25 years and had been at St. John's College Prep for 12 years after his stint at Katy. He was president of NISCA twice and has been involved in expanding the NISCA high school membership program overseas in the international membership initiative.
"If my mom knew all of this, she would say, 'it's enough to keep me out of trouble.' I've been put in leadership positions and I enjoy doing it. It's hard to step back. Some day I probably will. But right now I am staying busy and real pleased Brent (Rutemiller) came up with this idea, the 1 in a 1000."
A native of south Florida, Abbott has swum numerous times in the Hall of Fame pool in Fort Lauderdale and had been a coach on deck at many national level meets held at the facility.
Dana Abbott was inducted into the NISCA Hall of Fame in 2018.
Join the One in a Thousand Club by helping ISHOF on a monthly or one-time basis.
For larger corporate sponsorships and estate-planning donations, please contact us at customerservice@ishof.org.
Dana Abbott – 2008 Paragon Award Winner for Competitive Swimming
Dana Abbott is an outstanding coach and leader in high school swimming not only in his state of Texas but throughout the nation. He has been a role-model for the thousands of club and high school swimmers he has coached since 1971 and an inspiration for the hundreds of coaches who have attended his clinics and lectures. He was nominated for Texas HS State Coach of the Year three times and been District/Regional Coach of the Year numerous times. As Head Coach of Katy High School for 25 years and for 12 years at St. John XXIII College Preparatory, he developed numerous swimming, diving and academic All-Americans, but Dana's contribution to high school swimming goes beyond his love of working with the students.
He is a leader in the National Interscholastic Swimming Coaches Association (NISCA) having served on the national level as Outreach Coordinator, Marketing Director, Zone Director, President and President-Elect. He served two 2-year terms as President, the first time in the history of the organization that has occurred. His leadership has helped to increase the organization's financial sponsorship and co-authored the NISCA Constitution and By-Law Revisions. As a Life Member of TISCA, he is the only person to have held all four elected TISCA offices in Texas. As a clinician, Dana has spoken in over seven states and his writings have been published in the NISCA Journal, Swimming World Magazine and Swim- Info.com. He was a contributor to the joint ASCA/NISCA/USA Swimming treatise on mutual cooperation of competitive swimming programs.
The International Swimming Hall of Fame wants to know if you are one in a thousand? We think you are! Show how special you are and become a member of the International Swimming Hall of Fame's "One In A Thousand" Club. Help keep the International Swimming Hall of Fame moving forward toward a new vision and museum by joining now!
During these unprecedented times, the ISHOF Board is calling on every member in the aquatic community to make a small monthly commitment of support to show how special you are and how special the International Swimming Hall of Fame is to everyone.
"Our goal is simple. If we get 1,000 people to simply commit $10, $25 or $50 per month, we will generate enough revenue to go beyond this Covid-19 Pandemic Crisis." – Bill Kent – Chairman of the ISHOF Board

"Those that believe in our vision, mission, and goals can join us in taking ISHOF into the future and be a part of aquatic history." – Brent Rutemiller – CEO and President of ISHOF
Since 1965, ISHOF has been the global focal point for recording and sharing the history of aquatics, promoting swimming as an essential life-skill, and developing educational programs and events related to water sports. ISHOF's vision for the future is to build a new museum and expand its reach by offering its museum artifacts digitally through a redesigned website.
The ISHOF Board of Directors is calling on all members of the aquatics community to make a small monthly commitment to show their dedication to aquatics and how special the International Swimming Hall of Fame is to everyone.