Fitting Remembrance Day tribute to Olympic champion and Australian War hero Cecil Healy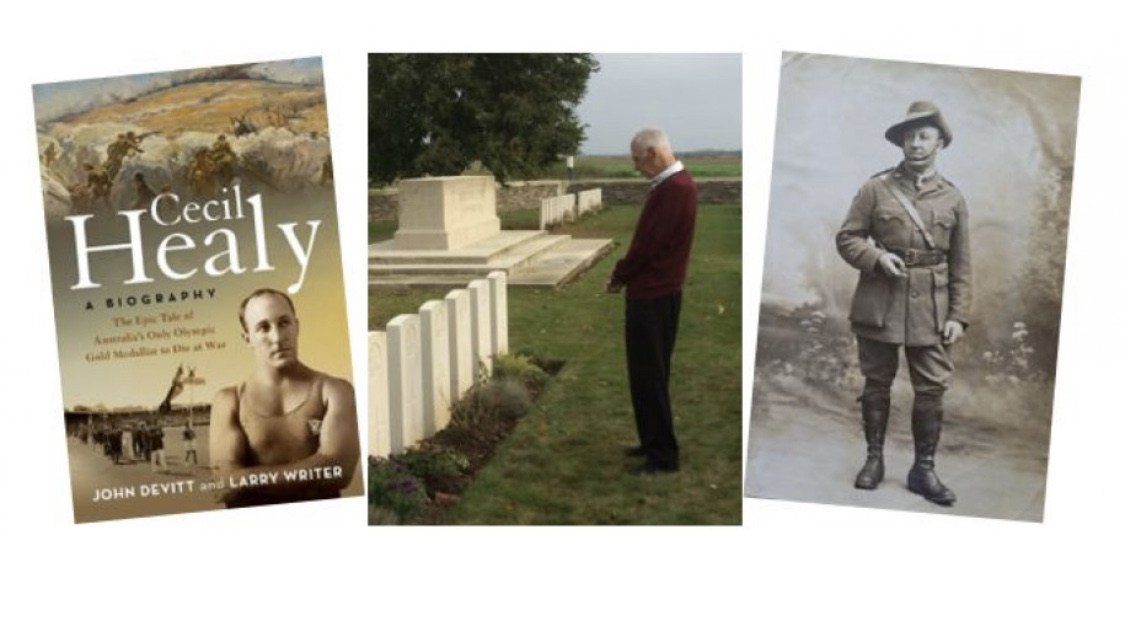 ---
by IAN HANSON – OCEANIA CORRESPONDENT
10 November 2019
In his first Remembrance Day tribute in Canberra today, Australian Governor-General David Hurley AC DSC, has paid tribute to legendary Olympic swimming gold medallist Cecil Healy – who remains the only Australian Olympic gold medallist to lose his life in the line of duty.
And sadly a man whose extraordinary deeds are still lost on many Australians.
General Hurley, himself a former senior Army officer who spent more than four decades in the military, delivered a moving and fitting commemorative address, honouring Healy, who had won gold in the 4x200m freestyle relay at the 1912 Olympic Games in Stockholm.
And who is also remembered for one of the most selfless acts of sportsmanship in Olympic history.
Healy, aged 33, lost his life serving with the Australian Imperial Forces during the Great War of 1914-18, a man who went on to enlist as an infantry platoon commander "despite his reservations about the causes and justification for the war" said General Hurley.
"Cecil Healy had no love of the military," said General Hurley "No desire to fight. But he recognised that his values and his freedom was threatened.
"Reluctantly, he chose to serve, fully understanding the risk contained in that decision. In that, he is an example to us today….and we shall be forever grateful to the thousands of men and women, like Cecil, who we remember today."
It was three years after his Olympic glory that Healy enlisted in the AIF on September 15, 1915 and after service as a quartermaster sergeant in the Army Service Corps in Egypt and France the champion Manly lifesaver and Olympic gold medallist transferred to the infantry officer school at Trinity College, Cambridge, where he swam, rowed, boxed and played rugby.
On June 1, 1918 he was commissioned as a second lieutenant in the 19th (Sportsman's) Battalion but was killed in his first action in the battle for Mont St Quentin, The Somme, on August 29 – just 74 days before the World War I Armistice was signed on November 11, 1918 and commemorated today.
And General Hurley's due praise for Healy [Video of the speech at ABC] continued when he described as "the greatest act of sportsmanship in Olympic history" for Healy's brave decision, when before the semi-finals of the 100m freestyle at the Stockholm Games, the US team, including race favourite Duke Kahanamoku had failed to arrive, he led a protest not to swim without Duke.
After a stand-off brought the Olympic swimming events to a stand-still, officials eventually agreed to wait for the Americans and it was Kahanamoku who went on to win the gold in 1:03.4 from Healy (1:04.6) with a second American Ken Huszagh taking the bronzed in 1:05.6.
The dramatic circumstance forged a friendship between Cecil and Duke that saw the Hawaiian "Father of Surfing" come to Sydney in 1915.
Healy helped organise Kahanamoku's history-making visit, an adventure that inspired generations of surfboard riders – introducing the pastime to Freshwater Beach – where his surfboard remains in the club's Hall of Champions (and it is fitting that in 2020, the sport of surfing will make its Olympic debut in Tokyo).
In his 2019 book "Cecil Healy – A Biography" 1960 Rome 100m freestyle gold medallist John Devitt, with co-author Larry Writer, wrote "Healy refused to swim in the 100-metres final unless the Duke, the favourite, was allowed to compete. The great Hawaiian had missed his semi-final after a misunderstanding over the starting time. Healy's gesture cost him victory but earned him a place in sport's pantheon of true champions."
Devitt, another true champion who had long seen Healy as his hero, with their lives travelling down such similar paths in sport and in life and it had been a life long ambition of Devitt's to travel to The Somme to visit Healy's grave and honour his fellow Olympic champion with a detailed biography of his life.
At the 1956 Olympics in Melbourne, Devitt had been part of the Australian gold medal-winning 4x200m freestyle relay team with Jon Henricks, Murray Rose and Kevin O'Halloran – 44 years after Healy had won the same gold medal with Leslie Boardman, Malcolm Champion (NZL) and Harold Hardwick in Stockholm.
(Ironically it was another 44 year gap between Olympic gold medal victories, when Ian Thorpe, Michael Klim, Todd Pearson and Bill Kirby also won gold in the 4x200m freestyle).
Such was Devitt's feelings for his hero, when Manly Council chose to honour Devitt (like Healy a long time Manly Swimming Swimming Club member) by naming their new eight-lane indoor pool after the 1956 and 1960 Olympic champion.
But Devitt convinced the powers-that-be to change the name to the Devitt-Healy pool.
Devitt, also a former Australian Olympic Committee executive, was one of the men instrumental in getting the Olympics to Sydney in 2000.
He told Robert Patterson of the Manly Daily that it was important­ to him to have Healy's name next to his as a "tangible memento."
Former Manly Mayor Jean Hay had originally planned to name the pool after Mr Devitt­, but after talks with him, she asked the Northern Beaches Council to change it. Ms Hay, a long time supporter of the Olympics and sport, said she had known Mr Devitt since she was 12 and said he was deserving­ of the recognition.
"I regard myself as having had a similar life (to Cecil Healy)," said Devitt, "We have enjoyed a great escalator, we have been successful but when the discussion came up I thought Cecil should have been recognised…and I said our names should be associated."
Patterson wrote that the humble act by Mr Devitt­ was fitting, given Mr Healy's reputation as one of Australia's most honourable sportsmen for his unselfish act in 1912 that would have certainly seen him win that individual Olympic gold.
As an elite young swimmer, as a resident of Manly on Sydney's northern beaches, where Healy once lived, and as a noted swimming historian, Devitt became engrossed in the Healy legend, writing the labour of love on his hero's life.
THE GRAVE of fallen Olympian Cecil Healy in The Somme. Photo Courtesy: Healy Family.
And again today a further fitting tribute to Cecil Healy by General Hurley, some 101 years after the death of a true Australian champion.
Cecil Healy and John Devitt are both honorees in the International Swimming Hall of Fame in Fort Lauderdale.
CECIL HEALY: A BIOGRAPHY is published by Stoke Hill Press. For more information about the book, or to arrange an interview with John Devitt or Larry Writer, please contact publisher Geoff Armstrong on the numbers listed above or via the Stoke Hill Press website: www.stokehillpress.com