Duncan Scott Joins Mack Horton In Podium Protest After "You Loser" Rant From Sun Yang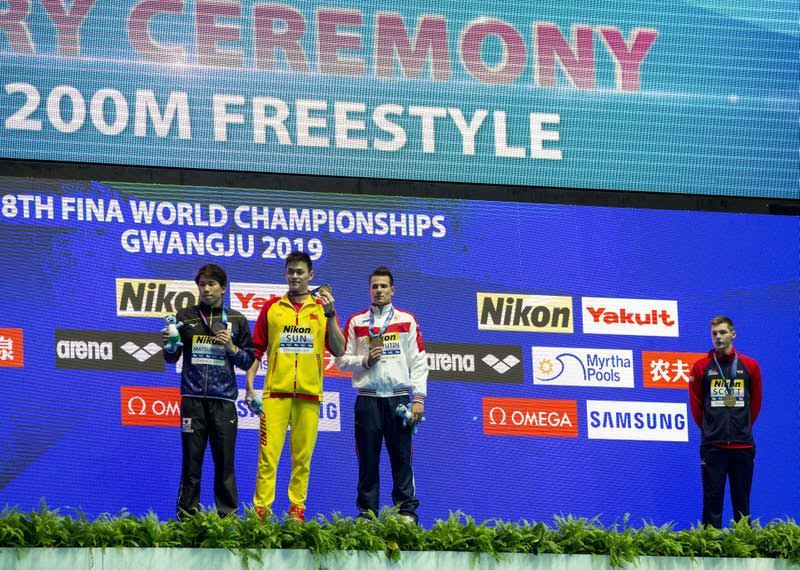 ---
by CRAIG LORD
23 July 2019, 06:35am
World Championships,
Gwangju Day 3 finals
 Photo Courtesy: Patrick B. Kraemer
The world got a view of the infamous temper of Chinese controversy Sun Yang when Britain's Duncan Scott staged a silent podium protest in support of Fair Play tonight at the Nambu pool here in Gwangju.
Passions already running high after Australian Mack Horton courted a FINA warning for refusing to stand on the podium with Sun after the 400m freestyle final on Sunday, tension was added to the mix when Lithuanian Danys Rapsys won the 200m final but had his celebrations cut short by disqualification for moving on his blocks at the start. That left Sun to shine as champion once more.
Whatever happened on the way to the medals, once on the podium, a dark cloud washed over Sun's mood: after he accepted the gold medal, he then turned to the shared bronze medallists to his left and shouted loudly in Scott's face "you loser, I am the winner".
The booing and jeering that started when Rapsys was denied, switched camps from crowd and athletes' stands to Chinese fans when Scott then stood well aside and refused to pose for medal-winners' photographs with Sun.
The snaps shot, Sun passed the waiting Scott – who had not inflamed the situation by answering back and simply maintained what he saw as his right to stand in protest – before turning on him once more and repeating: "You loser, me the winner".
Time to say goodbye to playing along with athletes towing a doping record, says Duncan Scott as he makes his way off the deck top cheers from the crowd and athletes – Photo Courtesy: Patrick B. Kraemer
Once more, Scott stood back as the other three medallists posed for more photos on the deck. He then decided, to boos from Chinese fans but far louder cheering from the rest of the crowd, athletes, coaches and some media, too, to walk away, waving his arm in the air to acknowledge the support raining down on his from the stands, teammates – and on social media.
Now retired from racing, Australian Olympic gold medallist Mel Wright tweeted of Scott: "I hope FINA and the world Anti-Doping authorities are watching the tide swell. More needs to be done and the athletes have had enough. Bravo 👏🏼 👏🏼"
Agent to Scott and Britain teammate Adam Peaty, Rob Woodhouse, an Olympic medallist for Australia back in 1984, weighed in with: "So proud of @Dunks_Scott stance on medal dais tonight. Brilliant swim and dignified protest. A true champion".
After emerging from his 50m breaststroke semi-final, Peaty, asked if he had been aware of the podium stand-off, said: "Yes I saw that.
"He is completely right. If people are booing Sun, it's for a reason. He should be asking himself now – should I really be in this sport when people are booing me? But I know how they are and I know how he is so it's … yeah … If I was swimming I wouldn't even get on the podium for that matter."
Had there been a conversation about a potential protest in the British camp? "Not really no," said Peaty.
"I think the most important thing as a sports person is that you have a right to a voice and Duncan showed his voice tonight and so did the crowd. It's completely fair that what ever is going on behind the scenes now is not going right because if the fans aren't wanting it then why is he even here?"
FINA leaders watched the incident unfold underneath the big screen flanked by giant posters of the championship motto: Dive into Peace.
It found none last night and now has another headache in its closet of nightmares, some of them involving Sun, his status as a swimmer towing a doping positive since 2014 and accusations of bad behaviour with that. He once served a short stint in jail for driving with a licence after the Porsche he was taking for a spin collided with a bus in China, while in 2015 at the Work Championships he kicked in a locker in a dispute with team officials who had withdrawn him from the 1500m freestyle final on health grounds and was the subject of a complaint from a Brazilian woman swimmer who said he had hit her in the warm-up pool.
In a warning letter to Swimming Australia over Horton's protest, the international federation said: "While FINA respects the principle of freedom of speech, it has to be conducted in the right context. As in all major sports organisations, our athletes and their entourages are aware of their responsibilities to respect FINA regulations and not use FINA events to make personal statements or gestures."
There was no question that "statements or gestures" came into play tonight when Sun screamed "loser" in Scott's face on a world-championship podium. The question is, therefore, will British Swimming get a warning from FINA? And if so, will the Chinese Swimming Association get one for Sun at a time of anti-doping case pending at the Court of Arbitration for sport?
Earlier in the day Australian Swimming Coaches and Teachers Association (ASCTA) has called on FINA, the international federation, to follow the example of the International Swimming League and take a zero-tolerance approach to anti-doping "… rather than issue meaningless letters of warning against clean athletes who take a stand".
The letter was that about Horton after he refused to step up on the podium next to China's Sun Yang after the 400m freestyle final at the World Championships here in Gwangju, Korea.
Horton decided to make a stand against Sun's presence at a championship at a time when an anti-doping case against him is pending at the Court of Arbitration for Sport (CAS).
A tentative September date has been set for a hearing into the World Anti-Doping Agency's March challenge to a FINA Doping Panel hearing into troubling events that unfolded at an out-of-competition test near Sun's home last September, the events surrounding which were revealed by the Sunday Times in January.
It was March before WADA lodged a case with the CAS to challenge a FINA Doping Panel ruling that let Sun go free but handed him a series of stern rebukes for his behaviour during four hours of argument with out-of-competition testers who called at his home on September 4 last year.
Last weekend, Sun's lawyers protested their client's innocence in a statement that said the Olympic 200m freestyle champion had requested that the CAS hold its hearing in public in the interests of transparency.
Horton's silent protest has earned plaudits from international peers in the pool and on the deck, while in China, his stance has faced heavy criticism and abuse from fans of Sun Yang.
Scott, too, was treated to a wave of social-media support from the swimming and sports community around the world (more on that later).
In the mixed zone, Scott did not elaborate when asked how he had felt about the controversy as he headed into the 200m final with Sun. He indicated that no words were needed from him, noting as he pointed at this author: "You do quite a job of making sure everyone continues to know about it and so I guess that's all I have got to say about it."