Happy Birthday Dr. Ferenc Salamon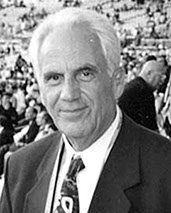 ---
Dr. Ferenc Salamon (HUN)
Honor Contributor (2019)
The information on this page was written the year of their induction.
FOR THE RECORD: more than 70 YEARS IN WATER POLO : Player, Referee, Administrator; FINA TWPC MEMBER: 1972-2000; LEN WATER POLO COMMITTEE MEMBER: 1970-2004; WATER POLO REFEREE AT EVERY OLYMPIC GAMES FROM 1972, EVERY WORLD CHAMPIONSHIP FROM 1973, EVERY EUROPEAN CHAMPIONSHIP 1970, EVERY FINA WORLD CUP FROM 1979; EXECUTIVE BOARD MEMBER OF HUNGARIAN WATER POLO AND SWIMMING ASSOCIATIONS: 1968-HONORARY MEMBER FOR LIFE
Hungary is a land of thermal springs and although landlocked, swimming and water sports are ingrained in its culture. This love of water led to an early domination of international swimming and diving competitions in the late 19th and early 20th century. In the 1920's, it was water polo that came to symbolize Hungary's unique strengths and individuality. So, it was natural for a boy born in 1930 to want to play water polo.
Dr. Ferenc Salamon was a swimmer who started playing water polo late, at the age of 19, in 1949. He was a talented athlete and his development was rapid. In 1952, he joined the Hungarian National Team and was a member of the silver-medal winning team at the World University Games in Paris in 1957. Although Dr. Salamon retired as a player in 1966, he has remained active in water polo for almost 70 years.
Two years after his retirement as a player, he became an internationally certified referee and immediately began officiating all types of competitions, including the 1970 European Championships, 1972 Olympic Games and the very first FINA World Championships in 1973 in Belgrade. He continued officiating major events, such as the European Championships for 34 years, the Olympic Games for 28 years, the World Championships for 26 years and the FINA World Cup for 21 years.
Salamon has served as a member of the European Swimming League Technical Water Polo Committee for 34 years, uninterrupted, from 1970-2004, and has also been a member of the FINA Technical Water Polo Committee for 28 years, from 1972-2000.
During these many years of service, Dr. Salamon's contributions to the organization have been exemplary and he has been helpful in the various areas of aquatic sports, including organizing, directing, and participating in many world and other international events, tournaments, conferences, clinics and congresses between 1970 and 2004. They include ten Olympic Games, all World and European Championships, FINA World Cups, Youth World Championships, and numerous Olympic and World Championship qualification tournaments during these years.
Salamon is also a Masters Committee Member of FINA and is on the Awards Commission of the European Swimming League. In his role as Masters Committee Member, he participated in the FINA Masters World Championships in the 2014, 2015 and 2017 Games and is also a member of the recent action committee for the upcoming 2019 event.
He has offered numerous proposals, amendments and advice for the technical committee with the intention to improve and further develop the game. Some of his suggestions influenced the entire sport of water polo including the regulation regarding the 55-year age limit for acting referees; introduction of experimental tournaments, and the 1970's system to supervise officials.
In addition to the many hours he devotes to the sport of water polo, Dr. Salamon is a Chief Hospital Physician. His medical and professional publications appear regularly in the FINA Magazine.
Dr. Salamon was presented the FINA and LEN gold and silver pins for his extraordinary work and dedication to the sport of water polo. He was awarded an Honorary Life Membership in LEN and to the Hungarian Swimming Federation. He has been bestowed with the honors of the Hungarian Sports Award, the Sport of the Hungarian Republic, and the Olympic Award, presented by the Hungarian Olympic Committee.