Dick Roth -the Story of Olympic Glory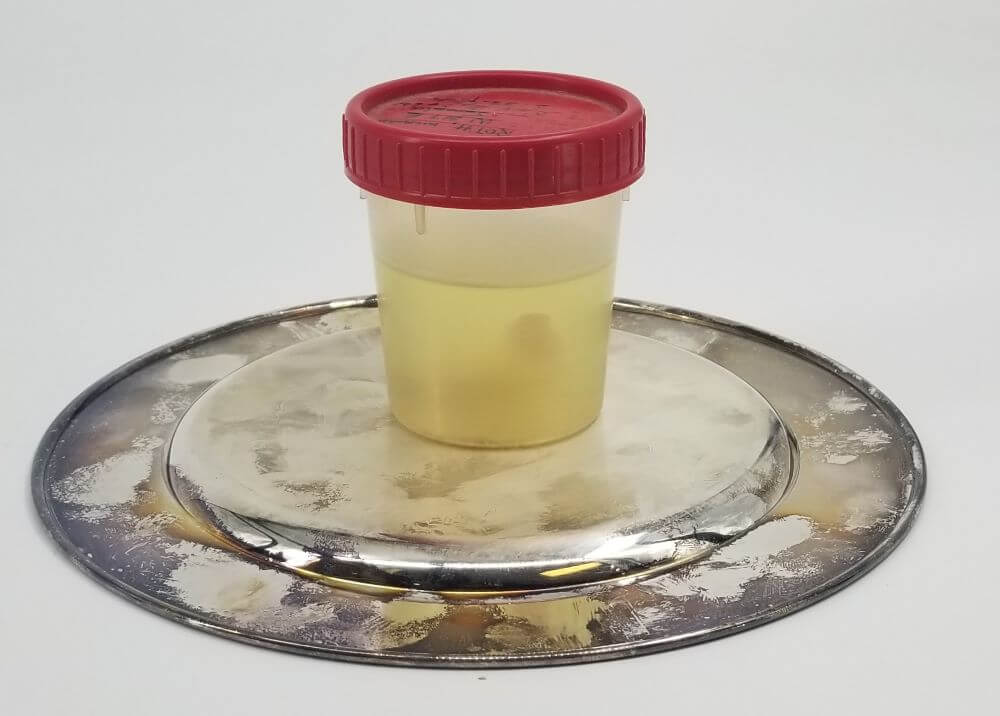 ---
by JOHN LOHN – EDITOR-IN-CHIEF 13 March 2022
At ISHOF, Appendix Is Piece of Memorabilia That Tells the Story of Dick Roth & Olympic Glory
Walking through the International Swimming Hall of Fame, any number of artifacts or pieces of memorabilia will catch the eye. Olympic medals. Warmups of legends. Suits. Caps. And…internal body parts.
Wait, what?
A packup process at ISHOF is currently underway, with every piece of memorabilia set to go into storage while a new facility – gorgeous in nature – is built in Fort Lauderdale. But before everything is boxed, a medical cup caught my attention during a recent visit. Could that possibly be a urine sample? No joke, that was the first thought that crossed my mind. And then I found out what was inside was even more stunning.
The first time the Olympic Games were held in Tokyo, there was no shortage of iconic moments. Dawn Fraser captured her third consecutive title in the 100-meter freestyle. Don Schollander doubled in the 100 freestyle and 400 freestyle. Donna de Varona was golden in the women's 400 individual medley, leading an American sweep of the podium.
Also in Tokyo, a 17-year-old American captured the gold medal in the men's 400 individual medley – major medical problems be damned. In what was a touch-and-go situation for a handful of days, Dick Roth battled through a bout of appendicitis, was given a green light to compete and delivered the performance of his career – and one of the gutsiest efforts in the history of the sport.
Heading into the Tokyo Games, Roth was pegged as the favorite for gold in the 400 I.M., having set a world record in the event just a few months earlier. It was the first time an individual-medley event was contested on the Olympic stage, with the 200 medley, in which Roth was also the world-record holder, added to the program for the first time in 1968.
Just before Roth was scheduled to step onto the blocks for the preliminaries of his go-to event, he was plagued by stomach pain. And it wasn't minor discomfort from a bad meal or due to a virus. This pain was piercing and led to Roth being taken to a U.S. Army hospital.
"The diagnosis was acute appendicitis, but I said 'no way I'm having surgery,'" Roth said during a 2012 interview with InMenlo. "Being just 17, I didn't have the final say. I was kept in the hospital and prepped for surgery. They brought in someone from the Olympic committee and went looking for my parents, who were enjoying a day of sightseeing before the competition. By the time they found my parents, it was six or eight hours later. There I sat, fully prepped for surgery on the gurney. But by that time, things had stabilized. I begged them to let me swim. My parents wanted to give me the chance to swim. My mother was particularly strong-willed, shall we say. They called Dr. Robert Jamplis at Stanford. Jamp advised monitoring my white blood count and putting me on antibiotics. On a logical level, it must have been an incredibly difficult decision for my parents, but they let me swim."
More than a half century after his ordeal, the fact that Roth was given a thumbs-up to compete is difficult to comprehend. Eating only Jello, not only were there risks of additional medical complications, Roth hardly seemed positioned to have an impact. And based on the way he performed during the preliminary heats, the teenager looked nothing like a medal contender.
Racing to a time of 5:01.3 during prelims, Roth was the fourth-fastest qualifier into the final and sat nine seconds off the leading pace of fellow American Carl Robie, who touched the wall in 4:52.0. More, Roth was 13 seconds slower than his world record. Although the final was not scheduled for two days later, an obvious question existed: While fighting appendicitis, how could Roth possibly get himself in contention?
A combination of factors enabled Roth to enter the final in considerably better form than prelims. For one, the antibiotics he was given had a major effect on his condition. More, Roth adopted an ahead-of-its-time approach and relied on visualization to mentally prepare for the race.
"I did what's commonplace today," Roth said of the downtime between prelims and finals. "I started to swim the race over and over in my mind. I also got progressively better. The finals were two days after the trial and that gave me time to recuperate physically and psychologically."
In the final, Roth was a much different swimmer than the one who trudged through prelims. Putting his multi-stroke talent on display, Roth stormed to a world record of 4:45.4 to secure gold and finish ahead of American teammate Roy Saari (4:47.1) and Germany's Gerhard Hetz (4:51.0), with Robie placing fourth in 4:51.4. Roth never led the race until the freestyle leg, when he overhauled Saari.
"Winning the gold medal (changed) my life," Roth said. "It led to absolutely amazing, wonderful things. But being only 17, I couldn't help but think, 'what's next.' It informed my life a lot. The drive I had to win gold has always been there to call on. But sometimes self-expectations are high."
For Roth, the gold medal was the obvious pinnacle of his career, which came to an end at 19, when Roth announced his retirement. Eventually, the future Hall of Famer was beset by another bout of appendicitis, this time requiring the removal of the unnecessary, but troublesome organ. Given the appendix by doctors after his operation, Roth eventually had an idea for its future. According to historian extraordinaire and former ISHOF CEO Bruce Wigo, when Roth was approached by ISHOF head Buck Dawson for a memorabilia donation to coincide with his Hall of Fame induction, Roth had a legendary option.
Roth isn't the only American swimmer with an appendix-focused story. In 1960, just six days after undergoing an appendectomy, Jeff Farrell qualified to represent the United States at the Olympics in Rome. At the Games, Farrell was a member of two golden relays.
As strange as it might seem that an appendix is part of ISHOF's memorabilia collection, its presence speaks to the depth and history of the museum. It also represents a unique moment in history – when toughness and guts prevailed.
Related