David Boudia, Steele Johnson Win 3-Meter Synchro at USA Diving Winter Nationals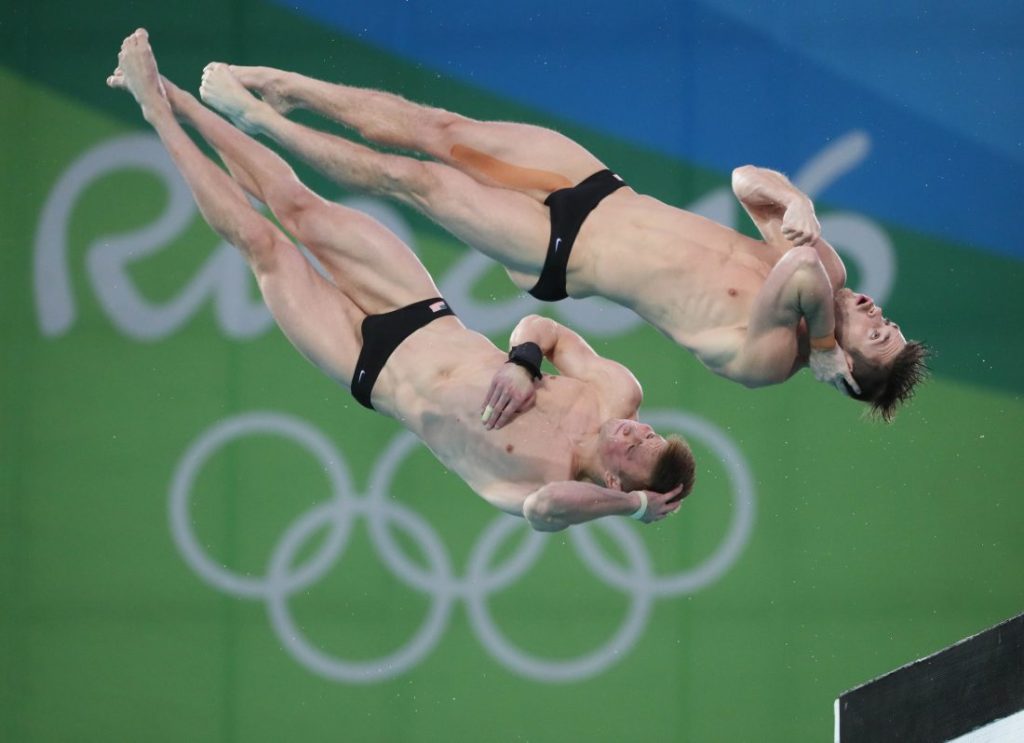 ---
17 December 2019
David Boudia (West Lafayette, Ind.) and Steele Johnson (Carmel, Ind./West Lafayette, Ind.) won men's synchronized 3-meter while Tarrin Gilliland (Midland, Texas) and Delaney Schnell (Tucson, Ariz.) took gold in women's synchronized 10-meter as the USA Diving Winter Nationals opened Tuesday at the University of Minnesota.
In addition to claiming national titles, the winning teams also punched their tickets to the 2020 FINA World Cup, set for April in Tokyo. The World Cup will be the final opportunity for countries to qualify their spots to the 2020 Olympic Games. The U.S. has already secured its women's synchronized 10-3-meter Olympic berth, but the U.S. is still seeking an Olympic spot in men's synchronized 3-meter.
Boudia and Johnson, who won silver in men's synchronized 10-meter at the 2016 Rio Olympic Games, now look to qualify the United States for Tokyo in synchronized 3-meter. The duo came from behind to finish with 815.22 points over two lists of dives to pick up first 3-meter synchro national title together. Michael Hixon (Amherst, Mass./Bloomington, Ind.) and Andrew Capobianco (Holly Springs, N.C./Bloomington, Ind.) scored 811.71 for silver, and Grayson Campbell (Vienna, Va./Austin, Texas) and Greg Duncan (Oakton, Va./West Lafayette, Ind.) scored 780.27 points for bronze.
"I'm not going to lie. It was intense. It was a high stress event. The top three teams were all battling for that World Cup spot, and we were right in the mix of it," said Johnson, who was competing in a 3-meter synchro event for the first time since the 2012 Junior World Championships.
Boudia and Johnson led halfway through the final but dropped to third, 12.63 points back, after scoring just 66.30 points on their fourth-round inward 3 ½ tuck.
"We had a pretty big miss in the fourth round that we had to come back from. Luckily we kept our heads on our shoulders. David's a huge competitor, and I'm a competitor. We've been through this before, and we know how to keep calm and execute when we need to," Johnson said.
Boudia and Johnson rallied back with more than 80 points on their final two dives at USA Diving Winter Nationals, including 87.15 points on a reverse 1 ½ with 3 ½ twists to clinch the win.
"I knew that we had a chance. I didn't know exactly what we needed to qualify but I knew that Michael and Andrew had missed a little bit. We just needed a really good dive to finish off. I wasn't focused on crushing the dive. It ended up being exactly what I needed alongside Dave," Johnson said.
Gilliland and Schnell scored 624.18 points to claim the women's synchronized 10-meter national title, with both divers each participating as part of two teams in Tuesday's contest. Gilliland won gold and silver, as she scored 603.78 points to finish second with Jessica Parratto (Dover, N.H./Bloomington, Ind.). Schnell and Parratto scored 596.10 points for bronze.
"Honestly it was taking one dive at a time. It's really hard to reset after a couple minutes and get back up there and do it again. That was the biggest challenge," Schnell said.
Gilliland and Schnell led after the morning preliminaries and maintained their lead throughout the entire final. They were the only pair to score 70 points or higher on all three of their optional dives in the final, highlighted by an inward 3 ½ tuck that scored 78.72 points and a back 2 ½ with 1 ½ twists that earned 73.92 points.
"The inward is a very strong dive for me, and I know that's a really strong dive for Tarrin as well. Being able to put that dive together was really good for us," Schnell said.
The USA Diving Winter Nationals continue through Sunday, December 22. Wednesday's competition features women's 3-meter synchro and men's 10-meter synchro.