Happy Birthday Craig Wilson !!!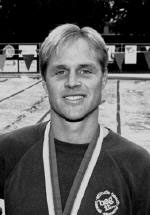 ---
Craig Wilson (USA) Honor Water Polo Player
FOR THE RECORD: 1984 OLYMPIC GAMES: silver; 1988 OLYMPIC GAMES: silver; 1992 OLYMPIC GAMES: Fourth; 1982, 1986, 1991 WORLD CHAMPIONSHIPS: team member; 1982, 1984, 1988 and 1990 FINA WORLD CUP: team member; 1991 FINA WORLD CUP: gold; 1981 PAN AMERICAN GAMES: silver; 1983 PAN AMERICAN GAMES: gold; 1987 PAN AMERICAN GAMES: gold; 1991 PAN AMERICAN GAMES: silver; Five U.S. Water Polo National Championships; Voted World's Top Goal Keeper.
Craig "Willy" Wilson rivals Hall of Famer Zdravko Kovacic (YUG) as one of the greatest goalies to play the game of water polo. He is a three-time Olympian playing in 1984, 1988, and 1992 winning silver medals in 1984 and 1988. From 1981 to 1992, he played in over 211 international tournaments. His six-foot, ten-inch, out- stretched arm length made it very difficult for opponents to score.
Craig was born on February 5, 1957, in Beeville, Texas, but at age four moved with his family to California living in Tujunga for seven years and Davis for eight years. As a kid, he loved any sport where there was a ball or a pool. He first played organized sports with Little League Baseball, playing first base, pitcher and right field and won the league championship. He began organized swimming at age 11, specialized in backstroke, but yearned for a team-oriented sport. He joined the water polo team.
Craig's water polo career started at age 13 with the Davis Recreational Water Polo Team. There was no league, only games amongst themselves. At Davis High School, he started playing goalie, even wearing braces, and played his way to high school All-American status in 1975. At the University of California, Santa Barbara, he played water polo his junior and senior year, starting as a walk-on, fifth-string goalie and advancing to starting goalie and an NCAA National Championship, beating UCLA in the finals, 12-3. Craig became NCAA first team All-American.
With the end of his collegiate career, Craig envisioned his water polo playing days over, but in 1980, he was invited to join the National Team Training Squad, again as fifth-string goalie. He joined the Industry Hills Aquatic Club Team (1981-1982) and the team won the National Outdoor Club Championships each of the two years. As a member of the National Team, he quickly advanced and for the next 13 years, he played in 19 major tournaments including: 1981 Pan American mini-tournament – 2nd, Edmonton Canada; 1981 World Student Games – 2nd, Bucharest, Romania; 1982 National Sports Festival – 4th, Colorado Springs; 1982 World Championships – 6th, Guayaquil, Ecuador; 1982 Tungsram Cup – 3rd, Budapest, Hungary; 1983 Fina Cup – 4th, Malibu, California; 1983 Pan American Games – 1st, Caracas, Venezuela; 1984 Tungsram Cup – 2nd, Budapest, Hungary; 1984 Olympic Games – 2nd, Los Angeles, USA; 1986 Goodwill Games – 2nd, Moscow, Russia; 1986 World Championships – 4th, Madrid, Spain; 1987 Pan American Games – 1st, Indianapolis, USA; 1987 Fina Cup – 4th, Thessaloniki, Greece; 1988 Olympic Games – 2nd, Seoul, Korea; 1990 Goodwill Games – 5th, Seattle, USA; 1991 World Championships – 4th, Perth, Australia; 1991 Fina Cup – 1st, Barcelona, Spain; 1991 Pan American Games – 2nd, Havana, Cuba; 1992 Olympic Games – 4th, Barcelona, Spain.
The 6 feet 5 inch, 190 pound Wilson, led every major tournament in saves since 1984, the same year he tended goal for the USA silver medal-winning team at the Los Angeles Olympics, where they were a close second behind Yugoslavia. At the 1988 Seoul Olympics, the USA again won the silver medal behind Yugoslavia. Wilson led the tournament with 68 saves, 10 saves ahead of Spain's Jesus Rollan with 58 saves. U.S. coach Bill Barnett said, "Without Craig, we would have never gone as far as we did. He was our saving grace." Four years later when finishing his Olympic career at Barcelona in 1992, the USA placed fourth behind Italy, Spain and the Unified Team. But Wilson was credited with an Olympic record, most saves at 88, which translated to a 70% efficiency. Gold medalist, Italy's Francesco Attolico had a 54% efficiency, silver medalist, Spain's Jesus Rollen had a 56% efficiency and bronze medalist, Unified's Evgenyi Sharanov had a 57% efficiency.
Barcelona was the third straight Olympiad that the 35 year old led all goalies in numbers of saves. No other goalie in the sports history is even close to matching this accomplishment. He was selected outstanding goalie at the 1992 French International, Tungsram Cup and Catania Tournament. He was a member of the 1991 World Championship Team competing in Perth, Australia and was also a member of three Pan American Teams winning two gold medals (1983, 1987) and a silver medal (1991). He was voted two times as the World's Top Goalkeeper. He competed on five FINA World Cup Teams for the U.S. (1982, 1984, 1988, 1990, 1991) winning the gold medal in 1991.
Craig competed for two years in the Italian professional water polo league, signing a contract with Ortegia in Sicily, a division one team that represented the seaside town of Siragusa, the islands oldest settlement started by the Greeks more than 2000 years ago. He was only the second American player signed to play in Italy and the first defensive player signed. Each weekly match drew 10,000 spectators usually with radio and television coverage.
As team goalie, Craig was a field leader, coach and wasn't afraid to take risks. He thrived on the responsibility of having a direct impact on the outcome of the game. Craig is also the author of The Guide to Water Polo Goalkeeping, an illustrated booklet for water polo goalies.