Coach Ursula Carlile to be Inducted into the International Swimming Hall of Fame Among Four Aussies In Class of 2020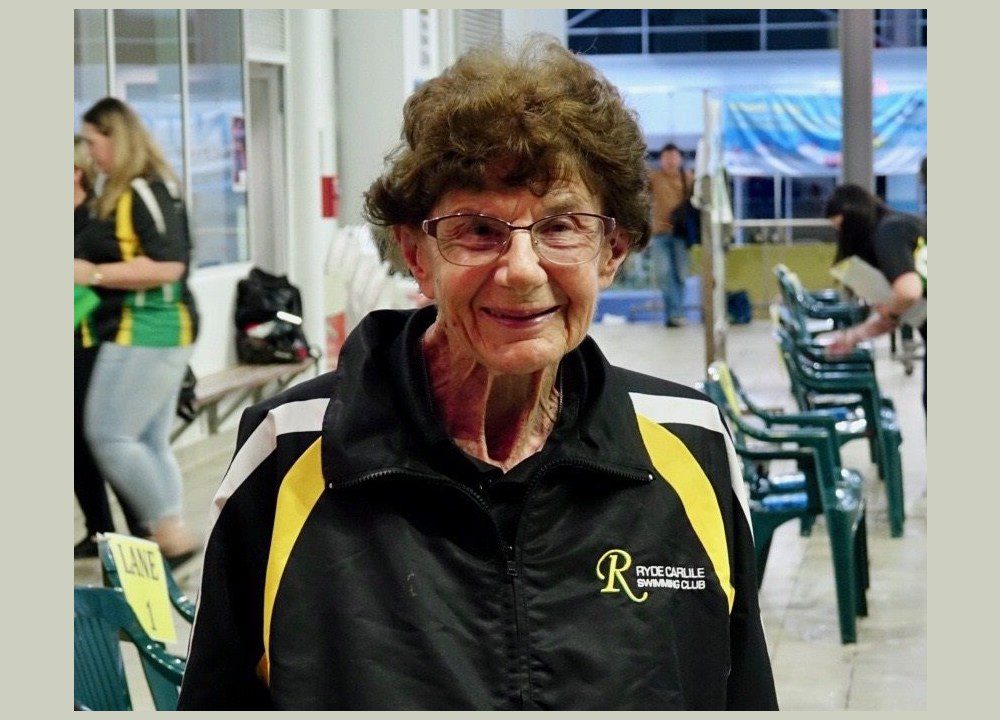 ---
For more than half a century, Ursula Carlile, teamed up with her husband, Forbes, to form swimming's first internationally-prominent husband and wife coaching team. The two collaborated at every level of the sport by sharing teaching, coaching, filming and administrative duties at their own Ryde Swim Club. The club originated in a backyard pool of their home in the Sydney suburb of Ryde. The pool is still there today! There they taught thousands of youngsters to swim and have coached some of Australia's most celebrated Olympians.
Ursula Carlile began her international coaching career in the Netherlands, where she and Forbes co-coached the Dutch National team from 1962-64 and where she was the Dutch Olympic Co-Head Coach with her husband. In the following decade, the husband and wife team made frequent periodic visits to the People's Republic of China, working with China's top coaches and national team. In 1980, the Carliles were named Honorary Olympic Coaches for China.
Come and meet Carlile in person and hear his incredible life story at the ISHOF Induction dinner on Saturday, April 25, 2020. Become an ISHOF Legacy Member and attend the ISHOF Induction Dinner for FREE. Can't attend the event? Please consider donating to ISHOF, support Ursula and our other inspirational Honorees.
More about Ursula Carlile:
In 1972, Ursula became Australia's first female Olympic swimming coach when she was selected as an assistant coach to Don Talbot, for the Munich Games. She served as an assistant to Terry Gathercole the next year at the World Championships, held in Cali, Colombia. In 1974, she was selected as Australia's first female Head Coach for the Commonwealth Games, held in Christchurch, New Zealand. In yet another sterling accomplishment, during the 1970's and '80's, she and Forbes coached five Olympians – all of them world record-holders: Karen Moras, Shane Gould, Jenny Turrall, Gail Neal and John Bennett.
In the days when Forbes Carlile could not secure official staff selection to the Australian Olympic team, it was Ursula Carlile who accompanied Gould as chaperone at the Munich 1972 Games. Forbes was there in a commentator's position with the media as Gould raced to what remains a record five-medal haul in solo events among women, her three golds secured with World records, a silver and a bronze completing a unique collection for a a pioneering pantheon. Gould is Dr. Shane Gould these days.
A Life Member of the Australian Swimming Coaches and Teachers Association, Ursula Carlile lectured frequently around the world until lately. Forbes, pioneer of the pace clock and several aspects of swimming science, entered the Hall of Fame in 1976. He passed away on the eve of the Rio Olympic Games in 2016.
About the International Swimming Hall of Fame Induction Weekend

:

The International Swimming Hall of Fame (ISHOF) Induction Ceremony is shaping up to be a star-studded weekend with multiple events spread out over two days in beautiful Fort Lauderdale, Florida.

Make your plans now to attend the weekend of April 24-25, 2020! ISHOF Members can purchase the Complete Weekend Package (see below) and save! (Get info on membership here.) Can't attend the event? Donate to ISHOF to support our honorees.

This year's International Swimming Hall of Fame Honorees include:

HONOR SWIMMERS: Brendan Hansen (USA), Michael Klim (AUS), Jon Sieben (AUS), Rebecca Soni (USA), and Daichi Suzuki (JPN)

HONOR DIVER: Matthew Mitcham (AUS)

HONOR SYNCHRONIZED (ARTISTIC) SWIMMER: Elvira Khasyanova (RUS)

HONOR WATER POLO: Mirko Vicevic (YUG)

HONOR OPEN WATER SWIMMER: Marilyn Bell (CAN)

HONOR COACH: Ursula Carlile (AUS) and David Marsh (USA)

HONOR CONTRIBUTOR: Bob Duenkel*(USA) and Peter Hurzeler (SUI)

In addition to the Class of 2020, two Honorees from the Class of 2019, who were unable to attend last year, will be present to be inducted. Honor Swimmer: Otylia Jedrzejczak (POL) and Honor Diver: Li Ting (CHN).

Get more information about this year's induction class here and more information about Otylia Jedrzejczak and Li Ting.

*deceased
The Induction Weekend Schedule
Friday, April 24, 2020
Paragon & ISHOF Awards Night
5:30 pm Cocktails
6:30 pm ISHOF and Paragon Awards
Saturday, April 25, 2020
Honoree Induction Day Luncheon – Meet Rowdy Gaines and go on a behind the scenes tour of the Aquatic Complex construction
Official 56th Annual International Swimming Hall of Fame Induction Ceremony and Dinner
5:30 pm VIP Reception
6:30 –10:00 pm Induction Ceremony & Dinner
Ticket Information
Hotel Information
Host Hotel: Fort Lauderdale Marriott Harbor Beach Resort & Spa
Upscale retreat with private beach access, two pools, four restaurants, full service spa and oceanside bar. Location of the Saturday evening induction ceremony. ¼ mile south of the International Swimming Hall of Fame.
3030 Holiday Drive, Ft. Lauderdale, FL 33316 (954) 525-4000
Special ISHOF Guest Rate of $279 per night
Book your group rate for International Swimming Hall of Fame
NOTE: RESORT FEE IS INCLUDED in the $279 rate
Courtyard by Marriott Fort Lauderdale Beach
440 Seabreeze Blvd., Ft. Lauderdale, FL 33316 (954) 524-8733
Special ISHOF Guest Rate of $229 per night
Book your hotel through the group rate for ISHOF Honoree Ceremony
Questions: contact Meg Keller-Marvin at meg@ishof.org or 570-594-4367