Classic Throwback Thursday: Six World Record Holders in one Car ~ L to R: Ludy Langer, Charlotte Boyle, Johnny Weissmuller, Norman Ross, Robert L. Pearson, Ethelda Bleibtrey, 1923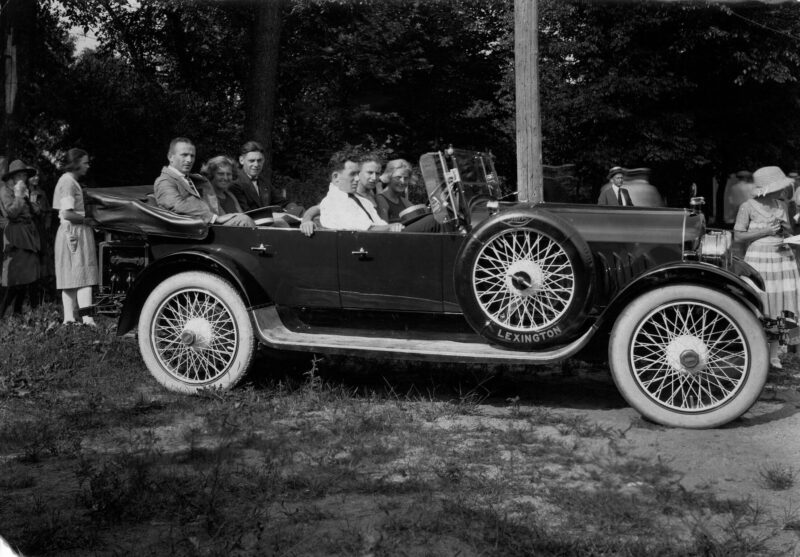 ---
All six in this photo are Honorees with the exception of Robert L. Pearson. Read their bios below to learn each of their fascinating stories. The photo was taken in 1923, Johnny was the only one who would go on to swim in the 1924 Olympic Games in Paris. The others had competed in the 1920 Games.
Ludy Langer
Honor Swimmer (1988)
The information on this page was written the year of their induction.
FOR THE RECORD: OLYMPIC GAMES: 1920 silver (400m freestyle); WORLD RECORDS: 2 (440yd, 500m freestyle); U.S. NATIONAL CHAMPIONSHIPS: 8 from 1915-1921.
Ludy Langer won a silver medal in the 400 meter freestyle at Antwerp in 1920.  He set two world records in the 440 yard and 500 meter freestyle and won eight U.S. National Championships from 1915 through 1921.  He held the world record in the quarter mile for five years until he lost it to Hall of Famer Norman Ross, the same Ross who touched him out for the 400 meter gold at Antwerp.  Langer was just hitting his stride with a victory in Hawaii over the legendary Duke Kahanamoku, when World War I interrupted his career.  He returned to win his last two Nationals in 1921.
Charlotte Boyle (USA)
Honor Pioneer Swimmer (1988)
The information on this page was written the year of their induction.
FOR THE RECORD: WORLD RECORDS: 2 (200m, 220 yd freestyle); U.S. NATIONAL CHAMPIONSHIPS: 8 (50yd to 5 mile long distance). Competed in 1910's and 1920's. First great freestyle swimmer of the dominant New York Women's Swimming Association.
Charlotte Boyle set two world records and won eight U.S. National Championships on both sides of the 1920 Olympics.  Charlotte Boyle was the first great freestyler of the dominant New York Women's Swimming Association and coach L. de B. Handley, the first U.S. scientific swimming coach.  Her style and glamour added to a large dose of talent, helped to popularize competitive women's swimming. She concluded her career with a story book marriage and a long life of service, teaching thousands to swim.  Her own competitive career included winning nationals from 50 yards to the five mile national long distance.  Her world records were in the 200 meter and 220 yard middle distance events.
Johnny Weissmuller (USA)
Honor Swimmer (1965)
The information on this page was written the year of their induction.
FOR THE RECORD: OLYMPIC GAMES: 1924 gold (100m, 400m freestyle; 4x200m freestyle relay), bronze (water polo); 1928 gold (100m freestyle; 4x200m freestyle relay); WORLD RECORDS: 51; U.S. NATIONAL CHAMPIONSHIPS: 52; Played Tarzan in 16 movies.
Johnny Weissmuller holds no current world swimming records and by today's Olympic standards, you might say he never swam very fast, but you can't get anyone who ever saw him swim say that there ever was a greater swimmer. This was the verdict of 250 sportswriters at A.P.'s mid-century poll and it is still the verdict 15 years later.
He was the swim great of the 1920's Golden Age of Sports, yet because of the movies and TV, he is as much a part of the scene in the 1960s as he was in the 1920s when his name was coupled with sports immortals such as Babe Ruth, Bill Tilden, Bobby Jones, Jack Dempsey and Red Grange. He is the only one of this group more famous today than in the "Golden Age."
Weissmuller set many world records and won 5 gold medals in two Olympics (1924 and 1928). He never lost a race in 10 years of amateur swimming in distances from 50 yards to 1/2 mile. Johnny's 51 seconds 100 yard freestyle record set June 5, 1927, in the University of Michigan Union Pool stood for 17 years until it was broken by Alan Ford at Yale in 1944. The 100 yd. distance is swum more often than any other, yet in 17 years, only one man ever swam it faster. That man was Johnny Weissmuller, who later, as a professional in the Billy Rose World's Fair Aquacade swam 48.5 at the New York Athletic Club while training Walter Spence to win the nationals. For those who think swimmers must be teenage bobby-soxers, it might be of interest to note that Spence was 35 at the time and Weissmuller was 36.
His record of 52 national championship gold medals should stand forever. He is famous for his chest high crawl stroke seen by millions in Olympic swim stadiums, on movie screens and on TV, but he also held world records in the backstroke and never lost a race in that stroke. "I got bored," says Johnny, "so I swam on my back where I could spend more time looking around." Weissmuller set 51 world records in his ten years as an amateur but many more times he broke world records and never turned in the record applications. Every time he swam, the crowd expected a new record, so Johnny learned pace. He learned how to shave his records a tenth of a second at a time. If he missed, his 350 lb. coach Bill Bachrach would say "rest a few minutes, Johnny, and we'll swim again." Bachrach would promise his protégé a dinner if he broke the record and Johnny always seemed to be hungry. Many a world mark was set with only a couple of visiting coaches or a few guests of the Illinois Athletic Club to watch.
Every old-timer in swimming has a favorite Johnny Weissmuller story. To them all, he was the world's greatest swimmer, yet ironically the producer who signed him to play Tarzan didn't know Johnny could swim. "Many think I turned pro to go into the movies," Johnny says, "but this is not true. I was working for a bathing suit company for $500 a week for five years, which was not bad money then (or now). I was in Los Angeles and they asked me if I would like to screen test for Tarzan. I told them 'no thanks' but they said I could go to the MGM lot and meet Greta Garbo and have lunch with Clark Gable. Any kid would want to do that so I said 'okay'. I had to climb a tree and then run past the camera carrying a girl. There were 150 actors trying for the part, so after lunch, I took off for Oregon on my next stop for the swim suit outfit. Somebody called me on the phone and said 'Johnny, you got it.' 'Got what?' 'You're Tarzan.' 'What happened to those other 150 guys?' 'They picked you.'"
"So the producer asked me my name and he said it would never go. 'We'll have to shorten it,' he said. 'Weissmuller is to long. It will never go on a marquee.' The director butted in. 'Don't you ever read the papers?' he asked the producer. 'This guy is the world's greatest swimmer.' The producer said he only read the trade papers, but okay, I could keep my name and he told the writers, 'put a lot of swimming in the movie, because this guy can swim.'"
"So you see why I owe everything to swimming," Weissmuller says. "It not only made my name, it saved my name. Without swimming, I'd be a nobody. Who ever heard of Jon Weis, marquee or no marquee."
Besides swimming, Johnny Weissmuller played on two U.S. Olympic water polo teams.  "Water polo's a rough game," Johnny says.  "We never could beat those Yugoslavians.  They never blow a whistle over there.  Anyhow, that's where I learned to duck.  It came in handy when Cheetah started throwing coconuts."
Norman Ross (USA)
Honor Swimmer (1967)
The information on this page was written the year of their induction.
FOR THE RECORD: OLYMPIC GAMES: 1920 gold (400m, 1500m freestyle; 4x200m freestyle relay), 4th (100m freestyle); WORLD RECORDS: 13; U.S. NATIONAL CHAMPIONSHIPS: 18
Not to be outdone by either Cann or Furuhashi, Norman Ross was decorated by General Pershing in world War I., served as aide to Gen. Doolittle in World War II.
In swimming, this great hulk of a man (6 ft. 2 in.–210 lbs.) held 13 FINA world records, won 18 U.S. National championships, held a total of 72 world, national and central U.S. records. He was the first non "trudgen" middle distance freestyler, using a scissor kick, 2 minors and a major as he turned to breathe (very similar to Roy Saari's kick 40 years later). Ross dominated both the 1919 Allied War Games with 5 firsts and the 1920 Olympics where he won 3 gold medals in the 400 meter freestyle, 1500 meter freestyle and as part of the USA's 800 meter freestyle relay. He worked out on the end of a rope in a canvas tank on shipboard.
As with most great swimmers of his era, Norman Ross wrangled a trip to Hawaii, but unlike the others, he returned with a Hawaiian Princess as his bride.
Ross certainly qualifies as one of the world's all-time great swimmers, but it is as a showman and leader of swimmers that he is best remembered. A master of "psyching" other swimmers, he also psyched the Olympic officials by calling a strike which the Olympic athletes won for a better ship home than the "cattle boat we went over on."
A few years later, after he had briefly coached the Detroit Athletic Club, Ross was back in Chicago and decided to try the Wrigley Marathon from Catalina Island to the California mainland. He was training in Lake Michigan and took a short training swim from the Lee Street Beach in neighboring Evanston to the first beach on Chicago's north side. Naturally all sunbathers were watching the head bobbing in the waves way out on the lake. Norman Ross, never one to disappoint a crowd swam into where he could stand in the water chest deep. "Is this Milwaukee?" he boomed. "No," said the sunbathers, "It's Chicago." "Nuts!" said Ross, slapping the water, "I must have missed my turn!", after which he dove back in and began swimming north.
After retirement from swimming, Norman Ross went into the music business and broke more records as this country's first classical disc jockey.
Receiving the award is Norman Ross, Jr., who, like his late father, is a familiar voice on Chicago radio and television.
Ethelda Bleibtrey (USA)
Honor Swimmer (1967)
The information on this page was written the year of their induction.
FOR THE RECORD: OLYMPIC GAMES: 1920 gold (100m, 300m freestyle; 4x100m freestyle relay); WORLD RECORDS: freestyle, backstroke; NATIONAL AAU CHAMPIONSHIPS: between 1920 and 1922 won every national championship from 50yd to 1 mile; turned professional in 1922 after an undefeated amateur career.
Ethelda Bleibtrey was the USA's first female Olympic swimming champion and the only person ever to win all the women's swimming events at any Olympic Games. She took up competitive swimming for the first time in 1918, won the nationals within a year, and was the best in the world by the end of the second year (1920 Olympics).
Miss Bleibtrey won 3 gold medals in the Games at Antwerp and says only fate kept her from being swimming's first 4 gold medal winner in one Olympic Game, an honor Hall of Famer Don Schollander accomplished 44 years later in Tokyo. "At that time," she says, "I was the world record holder in backstroke but they didn't have women's backstroke, only freestyle in those Olympics."
For her world and Olympic records in the 100 and 300 meter freestyle and anchor leg of the winning U.S. 400 freestyle relay, Ethelda was congratulated by King Albert of Belgium. She later surfed with the Prince of Wales in Hawaii, dated oarsman Jack Kelly in Atlantic City, and triumphantly toured the Panama Canal, Australia and New Zealand. The invitation down under came when she was the first girl ever to beat Hall of Famer Fanny Durack, the long-time Australian multi-world record holder on Fanny's U.S. tour in 1919.
Miss Bleibtrey had several other firsts for which she got citations but no medals. Her first citation was for "nude swimming" at Manhattan Beach. She removed her stockings before going in to swim. This was considered nudity in 1919. Resulting publicity and public opinion swinging in her favor not only emancipated Ethelda from jail, but women's swimming from stockings. On her trip to Australia with Charlotte Boyle the misses Bleibtrey and Boyle were the second and third famous women to bob their hair — something Irene Castle had just introduced. Charlotte's parents told them not to come home until it grew out (citation #2), for which they were reprieved when the ship landed and the Boyle's decided it didn't look as bad as they had feared. Citation #3 got Ethelda arrested in Central Park and paddy-wagonned down to the New York police station for a night in jail but it also got New York its first big swimming pool in Central Park after Mayor Jimmy Walker intervened.
It happened like this: "The New York Daily News" wanted the City to open up its Central Park reservoir for swimming and arranged to have Ethelda arrested while diving in. For this they paid her $1,000.00, money she sorely needed after an abortive attempt to turn pro with a tank tour of the Keith Circuit. Her tank leaked — all over the theater — and Keith's sued her instead of continuing her promised 14 week tour.
Ethelda Bleibtrey, who started swimming because of polio, and took it up seriously to keep her friend Charlotte Boyle company, turned pro in 1922 after winning every national AAU championship from 50 yards to long distance (1920-1922) in an undefeated amateur career. She also started the U.S. Olympians Association with Jack Kelly, Sr., and later became a successful coach and swimming teacher in New York and Atlantic City. She is currently a practicing nurse in North Palm Beach, Florida — not as young but just as interesting. The sparkle remains in her eyes as she tells how they swam their 1920 Olympic races "in mud and not water," in a tidal estuary; and how she participated in the first athletic sit-in when Hall of Famer Norman Ross organized the Olympic team to sit it out on the beach in Europe until the U.S. Olympic Committee sent better accommodations for the voyage home. "I have my memories," says Ethelda, "and I guess some of those other people remember too. I owe a great deal to swimming and to Charlotte Boyle, who got me in swimming and L. deB. Handley, who coached me to the top."