City of Fort Lauderdale Hosts Topping Out Ceremony For Historic Permanent High Diving Tower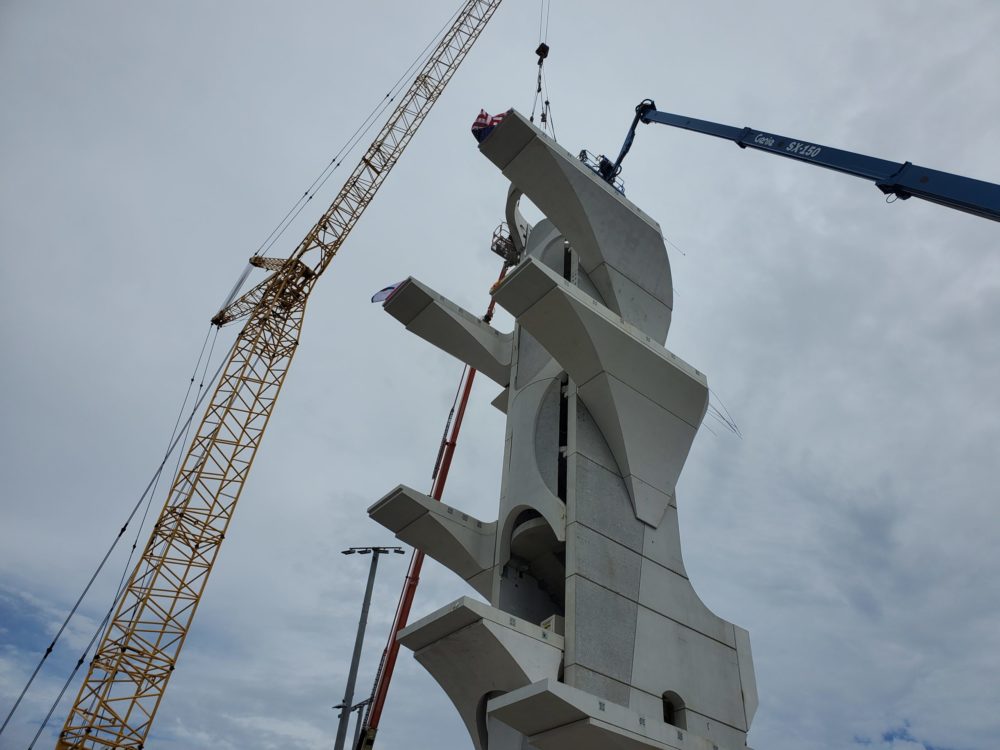 ---
01 July 2021, 03:27pm
On Thursday, the City of Fort Lauderdale hosted the topping out ceremony to celebrate the last piece of steel being erected for the permanent 27m diving tower as part of the ongoing International Swimming Hall of Fame Aquatic Complex construction.
The permanent high diving tower will be the first in the western hemisphere and just the second in the entire world, with the other being in Zhaoqing, China. In May of 2019, the city of Fort Lauderdale was in the early stages of evaluating the construction of an iconic High Diving Tower, and in July 2020 the city commissioners voted to fully fund the 27-meter dive tower and an Observation Deck.
"Special thanks need to go out to Mayor Dean Trantalis and City Manager Chris Logerbloom for their vision and Bruce Wigo for championing this possibility. A big "Thank You" to Vice Mayor Heather Moraitis, Commissioners Steve Glassman, Ben Sorrenson, and Robert Mckinzie for their support.

"The City Parks and Recreation department led by Phil Thornberg should be proud of this accomplishment along with Laura Voet and Hansel Phelps who oversaw this construction. This is a special day for the diving community worldwide and will truly reinforce Fort Lauderdale as THE international destination for diving and aquatic sports." – Brent Rutemiller President and CEO of the International Swimming Hall of Fame, who was not present due to his ongoing battle with plasma cell leukemia.
Special guests for the dedication included World High Diving Champion Steven LoBue, the first diver to complete an inward quintuple somersault with a half-twist in the tuck position, degree of difficulty five-point-four. FINA High Diving Technical Committee Chair and Olympian Tom Gompf, USA Diving Olympians Dave Burgering, Jevon Tarantino, Michelle Davidson-Sandelin, University of Miami head coach Randy Ableman and USA National Team Members for the Hurricanes David Dinsmore, Zach Cooper and Briadam Herrera.
"It's an honor to be in my position and help guide the sport of high diving towards the Olympics," LoBue said. "It is a tremendous honor to have this here in our backyard in the city of Fort Lauderdale to help continue the historic track record of diving excellence that this city has. Fort Lauderdale is really deeply rooted in the hearts of the diving community. We are super excited to have the structure go up and what a big step for the sport of high diving towards our Olympic dream."
"This is going to be the Taj Mahal of diving – not just high diving," ISHOF Honor Contributor Tom Gompf said. "The whole world is anxious to come back to this venue. We have shown the pictures of these plans around the world and it is going to be great. I am so proud Fort Lauderdale has endorsed this project and we have had various amounts of support in the past and this has been fantastic. We have had tremendous history already but it is going to get better."
The City Commission, acting as the Community Redevelopment Agency (CRA) Board of Commissioners, approved funding to support the addition of a north observation deck and 27-meter dive tower as part of the ongoing improvements at the aquatic center at a total cost of $7,870,261.
The high diving tower has been constructed using precast concrete sections and includes decorative glass fiber reinforced concrete (GFRC) cladding and decorative lighting.
The $5,101,060 cost will be paid for with CRA funds. The north observation deck adds approximately 2,800 square feet of amenity space and includes new elevator and stair tower access, architectural GFRC cladding on the building, and decorative railings and lighting. The $2,769,201 cost will be paid for with park impact fees.
The 27-meter dive tower includes nine platform levels and combines springboard (one-meter, three-meter), platform diving (one-meter, three-meter, five-meter, seven-point-five-meter, 10-meter) and high diving (15-meter, 20-meter, 24-meter and 27-meter).
The design-build construction team is led by Fort Lauderdale-based Hensel Phelps Construction Company. The tower is constructed of 96 precast concrete panels, and rests on a foundation five-feet deep and 53-feet wide, supported by 35 augercast piles at a depth of 60-feet. There are 162 stairs to the top of the tower.
While there is a long history of high diving feats, the sport was first recognized as the sixth aquatic discipline in 2014 by Federation International de Natation (FINA), the world's international governing body. At a height of 27-meters, a diver can reach speeds up to 60 mph in 3 seconds.
The Aquatic Center is scheduled for substantial completion in September 2022.