Celebrate the birthday of Australia's Fanny Durack!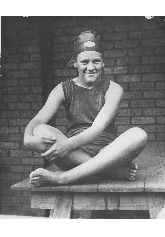 ---
FANNY DURACK (AUS) 1967 Honor Swimmer
FOR THE RECORD: OLYMPIC GAMES: 1912 gold (100m freestyle); WORLD RECORDS: 11 freestyle (between 1912 and 1918); 100yd freestyle (1912 to 1921); 100m freestyle (1912 to 1920); 220yd freestyle (1915 to 1921); 500m freestyle (1916 to 1917); 1 mile (1914 to 1926).
The first great woman swimmer was the first Olympic champion, Fanny Durack, Australian, who traveled the world even as Sarah Bernhardt, the champion of champions for many years. Fanny Durack was already an old-timer when Olympic organizers finally admitted a woman's swimming event in 1912 at Stockholm. She won, and her records from that time held for 8 or 9 years until American Ethelda Bleibtrey caught up with her as much by age as by talent.
Durack held 11 world records between 1912 and 1918 in the limited world of trudgen swimming and women's Australian crawl 2-beat freestyle. Her world tours did more to promote swimming than any woman with the possible exception of her Australian countryman Annette Kellerman. On a U. S. tour in 1912, Miss Durack got newspaper billing as "holding all championships for deep diving and for staying under water continuously."
Fanny Durack not only took on all comers the world over, but beat all comers the world over for 8 years in the formative years of women's swimming. She did more than any other swimmer to make the term "Australian Crawl" a definition which survives until this day although completely inaccurate. The Australian crawl of Fanny Durack was a 2-beat kick, an opposite action with one arm stroke, opposite leg action, and completely different from the American crawl, 6-beat kick, completely independent of the arm strokes popular today.
Durack held the 100 yard freestyle record from 1912 to 1921, the 100 meter freestyle record from 1912 to 1920; the 220 yard freestyle record from 1915 to 1921, the 500 meter freestyle record from 1915 to 1917 and the mile record from 1914 to 1926.
Fanny Durack was finally defeated by American Ethelda Bleibtrey but no one did more to dominate women's swimming longer than Australian Fanny Durack.