Canadian Open Water Swimmer was born on this day in 1909…..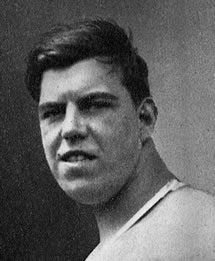 ---
George Young (CAN) 2014 Honor Pioneer Open Water Swimmer
FOR THE RECORD: FIRST PERSON TO WIN AN ORGANIZED AND ADVERTISED MARATHON SWIM FOR CASH PRIZES (CATALINA CHANNEL, 21 MILES, 1927); WINNER OF CANADIAN NATIONAL EXPOSITION (CNE) RACES (15 MILES) IN LAKE ONTARIO.
In 1926, William Wrigley, Jr., the chewing gum magnate and owner the Santa Catalina Island Co., was looking for ideas that could bring more attention to the island's mild winter climate. When word came that Gertrude Ederle had swum across the English Channel, Wrigley took note of Ederle's stunning accomplishment but was particularly fascinated by the ticker-tape parade and worldwide press coverage that followed.
So, it was with the hope of publicizing the "off season" attractiveness of his resort that Wrigley invited the world's greatest distance swimmers to race across the Catalina Channel, roughly the same distance as the English Channel, for a winning prize of $25,000.
Never in swimming history was there an event that created greater enthusiasm, interest and participation than the William Wrigley Ocean Marathon.
When the starter's gun boomed at 11:21 AM, it was followed almost instantaneously by the roar of the massed crowd and blasting boat horns as one hundred and one swimmers leaped for the water, which was as smooth and inviting as a pond. But a few hundred yards from shore the 54 degree temperature water offered whitecaps and fog in the distance.
Olympian Norman "Moose" Ross and George Young, a pennyless 17 year old amateur from Toronto, Canada quickly emerged from the pack. After about a mile Young grabbed a lead of about 150 yards, doubled that lead after two hours and stretched it to a mile by sunset. Gradually, swimmers began to drop out of the race, until Young and Ross were alone to fight against the icy depths, the intense exhaustion, and even the occasional shark. As Young neared the mainland with Ross closing the gap, thousands of people lined the shore with car headlights and bonfires, shouting encouragement to the solitary swimmer as he battled the force of the incoming tide. The triumphant Canadian stepped onto shore to claim his prize after an incredible and grueling 15 hours and 45 minutes.
Over the next few days, Young was picked up and carried along by a gigantic title wave of popularity that seemed to be taking the sports world's newest idol to fame, glory and riches. But while fame and glory proved to be elusive, the spirit and memory of George Young, the "Catalina Kid" survives today in the minds of all swimmers who try to meet the challenge of the crossing, his victory remains an example of achievement and accomplishment through perseverance and fortitude.